Click Here to Subscribe via iTunes
Click Here to Subscribe via RSS Feed (non-iTunes feed)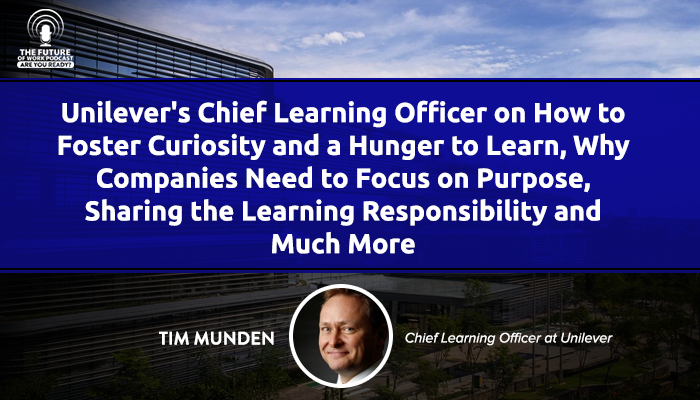 Tim Munden is the Chief Learning Officer at Unilever. Tim has worked there since 2000, holding roles such as Senior European HR Manager, VP HR – Unilever Food Solutions Americas and VP HR for their Global Business Services.
Unilever is found in over 100 countries with more than 160,000 employees. Seven out of every ten households around the world contain at least one Unilever product. They produce more than 400 items – including household-name brands such as Lipton, Knorr, Dove, Axe, Hellmann's and Suave.
Tim's career started to have focus when someone asked him two questions:
1. What do you really love?
– he answered human beings
2. What do you want to learn about?
– for Tim it was how companies and communities can allow people to be their very best
What are your big challenges at Unilever?
1. Unlocking the characteristics of learning
2. Unlocking agility. Encouraging people to be constantly curious and courageous.
3. Getting rid of the stigma around mental health. The goal is that people would feel free to share this illness with their line managers.
The top initiative at Unilever is to ensure that every employee is one click/chat away from the well-being help they need – via phone or internet. For example, legal advice, or mental and physical health support.
Tim's advice for managers is to know how to answer– what is the purpose of our business? Keep asking why, why, why. Go on the journey with the senior leadership team.
Also, ask yourself what is the business case of the potential of all of your people. All the passion and energy. What is the price of not doing this?
Tim's advice for employees is to make sure you challenge your own humanity, don't check it at the door. Don't be shy to bring yourself to work.
What You Will Learn In This Episode:
● What is 'reverse mentoring'?
● What Unilever is doing to help their people find their purpose
● Why do companies need to focus on purpose?
● What learning looks like at Unilever and how it has evolved over the last 25 years
● How to create a culture of curiosity and hunger to learn at work
Link from the episode:
Want To Hear More On The Future Of Learning?
Preparing Students to Lose Their Jobs, The Future of Learning, and The Evolution of Work

How To Create An Organization Where Everyone Is Engaged In Learning

Comments