Click Here to Subscribe via iTunes
Click Here to Subscribe via RSS Feed (non-iTunes feed)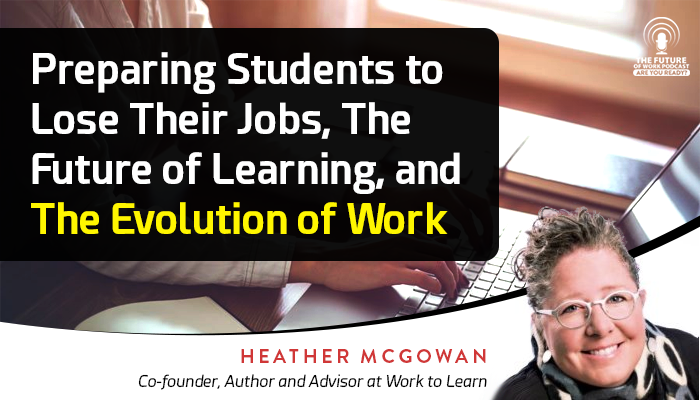 Heather McGowan is the Co-Founder, Author and Advisor for Work to Learn. She speaks internationally on the future of work and the future of learning. She advises and partners with education and business leaders to most effectively prepare for rapid and disruptive changes in learning, work, and society.
In higher education, McGowan advises presidents and senior leaders to develop students' learning agility as well as critical thinking skills in order to prepare graduates for jobs that do not yet exist.
McGowan also guides corporate executives to re-think and re-frame their business models, and their understanding of team and organizational structures, to be resilient and successful in changing markets. She is the co-author of the book Disrupt Together: How Teams Consistently Innovate and numerous well-received articles.
In looking at the future of work, which skills will benefit future students and educators? McGowan suggests seeking to understand, to learn and adapt. Work on upgrading your "Operating system" – the overall 'you'.
How about the future of education degrees? Is there a 'future proof' field? McGowan believes in thinking like an 'X', so you can look at all disciplines (similar to 'liberal arts degrees'), as opposed to focusing on one specialty in depth.
When it comes to the 4th industrial revolution, McGowan says, "we are seeing this merger of cyber physical systems and the internet of things where everything around you has some form of intelligence–anything mentally attained or predictable can be achieved by an algorithm–and it's no longer just the physical labor that gets replaced by non-biological intelligence but it's cognitive labor as well"
Because of the fact that cognitive labor is now being affected by this 4th Industrial Revolution, we have to move towards learning agility as well as becoming more adaptable and empathetic, to ensure that we stay relevant in the workplace.
There are 3 interlocking factors that are transforming work, called the "3 A's":
Atomization – a job being broken into job components –the 'thing' that needs to be done 'gig work', working 24/7, working around the work
Automation – work done entirely by non-biologic intelligence – like software that schedules in a life-like sense
Augmentation – using something to extend the human potential – like the robots used in surgery
McGowan's advice for people who want to stay relevant is to step into a community such as LinkedIn or another group that are learning communities as these groups learn a lot from each other, really connect with these groups and make a commitment to learn something new everyday.
What you will learn in this episode:
● Why students need to think as futurists
● Why…and how we need to prepare students to lose their jobs
● Why we should stop asking the three "what" questions
● What learning uncertainty is
● A look at the evolution of work and where we are today
Links from the episode:
Heather McGowan on LinkedIn
HeatherMcGowan.net
Want To Hear More Podcasts On The Future Of Learning?

People Analytics, Data and Learning: Insights from SAP's Chief Learning Officer, Jenny Dearborn

How To Create An Organization Where Everyone Is Engaged In Learning, With Steelcase CLO Rebecca Chandler

Comments