Click Here to Subscribe via iTunes
Click Here to Subscribe via RSS Feed (non-iTunes feed)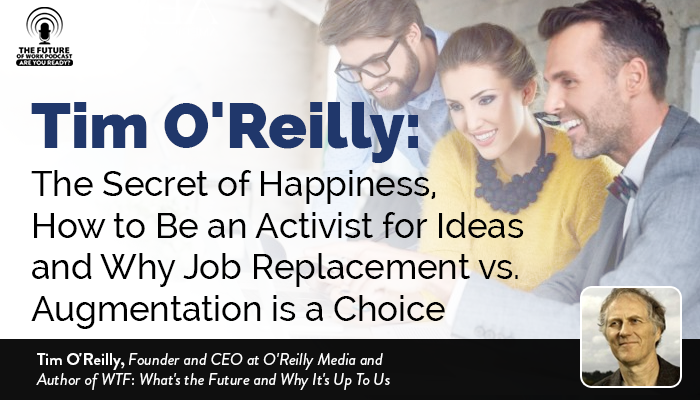 Tim O'Reilly is the founder and CEO of O'Reilly Media (formerly O'Reilly & Associates). O'Reilly Media delivers online learning, publishes books, runs conferences, urges companies to create more value than they capture, and tries to change the world by spreading and amplifying the knowledge of innovators. He is also the author of the new book, WTF?: What's the Future and Why It's Up to Us.
When asked about changes in business since the 80's and 90's, O'Reilly said it appears that businesses are focused are on the future and their ability to sell rather than building a real business. Another fundamental change is that most of the work is done by a program, the managers of the bots that are doing the work. There is also a group of workers that are managed by the bots – like Uber.
One of the trends O'Reilly is currently paying attention to is AI and automation. Do we use machines to replace people or use them to augment people?
O'Reilly believes the future of AI is up to us. They can run us over. Or we put technology to work to solve hard problems. Rethinking the way we do things, not just small tweaks – but in significant ways about the way we do things – for instance, health care.
O'Reilly advises us to focus on the value that you are trying to create rather than the value you are trying to get. If you are trying to extract value, it's not sustainable. We have to "Create more value than you capture." You will have a successful business. Doing more with technology, solve problems and you will create more jobs.
Some of O'Reilly's parting advice is to act like the 'owner' of the business rather than a 'worker' and to think about what you would like the future of work to look like.
What you will learn in this episode:
• Why focusing on shareholder value is a problem
• Myths of self-driving trucks' future
• Why O'Reilly says, "Create more value than you capture."
• Why we need to rethink the structure of benefits
• O'Reilly's view of jobs vs. work
• Trends O'Reilly is looking at with the future of work
Link from the episode:
• Tim O'Reilly LinkedIn
• @Timoreilly on Twitter
Want To Hear More Podcasts On Happiness?

The Happiness Industry: How the Government and Big Business Sold Us Well-Being with Author William Davies

Is Happiness the New ROI? Featuring Centro CEO Shawn Riegsecker