Click Here to Subscribe via iTunes
Click Here to Subscribe via RSS Feed (non-iTunes feed)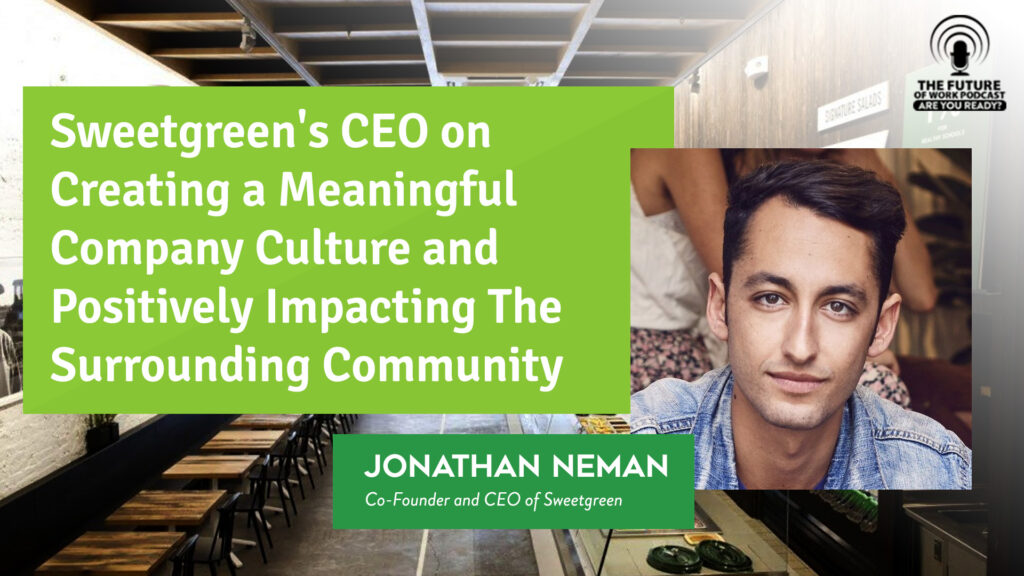 Jonathan Neman is Co-Founder & CEO of Sweetgreen, an American fast and casual restaurant that focuses on simple, seasonal, healthy food that uses locally sourced ingredients. Jonathan and his co-founders, Nathaniel Ru and Nicolas Jammet, started sweetgreen in 2007, opening their first location in Georgetown, DC – just three months out of college. The brand's strong food ethos, embrace of passion and purpose, and investment in local communities has enabled Sweetgreen to grow into a national brand with more than 90 locations and over 4,000 employees across the East Coast, Midwest and California.
Sweetgreen has a very strong company culture that focuses on passion and purpose. Jonathan, Nathaniel, and Nicolas have done an amazing job, not just fostering a meaningful employee experience for their people, but also in creating a great experience for their customers that goes above and beyond. They are on a mission – not just a job. There is a greater purpose – both as a company and community perspective.
The Treehouse is the support center at Sweetgreen – they support the restaurants. About 150 people work at the Treehouse – they work on the brand, marketing, HR and so on. Some of the 150 people at the Treehouse are in the field, overseeing regions. They have a strong regional workforce. The 'head coach' is the general manager of the restaurant. The head coach runs everything within the restaurant, creates the culture, motivates the team, etc.
Jonathan has been recognized as a key innovator in food and business, named to Fast Company's "Most Creative People in Business," Inc's "30 Under 30," Forbes' "30 Under 30" and Food & Wine's "40 Big Food Thinkers 40 and Under." In 2016, Sweetgreen was named one of Fast Company's "Most Innovative Companies."
Jonathan defines Sweetgreen's culture as: happy, humble, hardworking, curious and coachable
At Sweetgreen they view the work as a team sport. It is not a company in which one person can do it alone. The work is cross functional. They look for people that will share the credit and have a positive intent. Employees need to be able to ask for help. Humility leads to wanting to hire people that are better than you.
People start to come to Sweetgreen for the brand and food, but what keeps them coming back is the connection to the team that works there and the "Sweet Touch" that is one of Sweetgreen's core values. It all goes back to the company's desire to not just bring food to people, but to do it in a way that makes an impact on their customers and their community.
Jonathan's advice for companies:
-Connect to your mission
-Don't just put values up on the wall. Make them real action items that everyone is responsible for
-Allow your team to co-build the culture together
-Understand that your culture will evolve over time– this is good and expected
What You Will Learn In This Episode:
● How and why Sweetgreen got started
● How Sweetgreen is impacting the surrounding community
● Why Sweetgreen hires 'sincere, not serious' people
● What is a 'sweet touch' at Sweetgreen
● Jonathan's unique morning routine
● How Sweetgreen fosters a culture of goal setting and continuous learning
Links from the episode:
Comments