Click Here to Subscribe via iTunes
Click Here to Subscribe via RSS Feed (non-iTunes feed)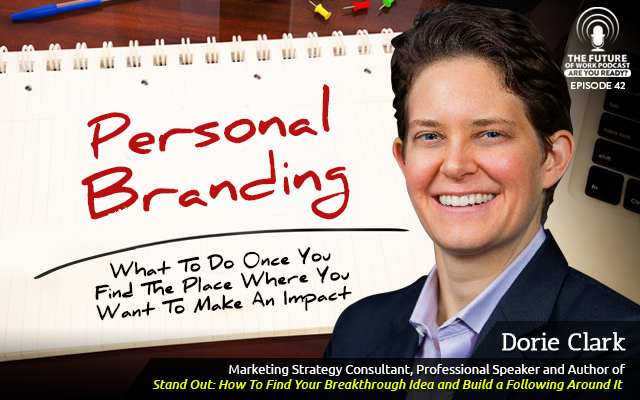 This month's content on the future of work was made possible by my friends at Work Market. Work Market is a freelance management system that brings freelancers and organizations together. As the freelancer economy continues to grow organizations are going to have to think differently about how they service, innovate, and compete in the future of work.
What this episode is about and why you should care
This episode of the Future of Work podcast is with Dorie Clark is the author of a new book called Stand Out: How To Find Your Breakthrough Idea And Build a Following Around It. Dorie is also a marketing strategist, professional speaker and adjunct professor at Duke University. For anyone interested in personal branding, this is going to be a very, very interesting podcast. We look at everything—why personal branding is for everyone, how to develop your own niche, how to deal with online trolls, how to grow your network, and more. Both Dorie and I share advice on consistency, frequency and visibility towards building your personal brand. For those of you interested, Dorie also has a great column on Forbes that you can also check out. This was a great conversation and lots of fun. Tune in and listen to Dorie Clark on personal branding!
What you will learn in this episode
Dorie Clark's background
Clark's view on the necessity of personal branding for everyone
What is a personal brand
How to start building your personal brand
Consistency frequency, visibility
The role of technology in personal branding
Balancing experience with personal branding
Dealing with online trolls
Building a network: a lot like being an entrepreneur
Clark's views on the freelancer economy
What's next after the idea – 3-step process
Clark's insights on the challenges of personal branding and how to overcome them
Using internal collaboration tools to help employees' personal branding
Clark's advice for building your personal brand – what to do when you think there's nothing left to say
Last words
Links from the episode
Comments