Click Here to Subscribe via iTunes
Click Here to Subscribe via RSS Feed (non-iTunes feed)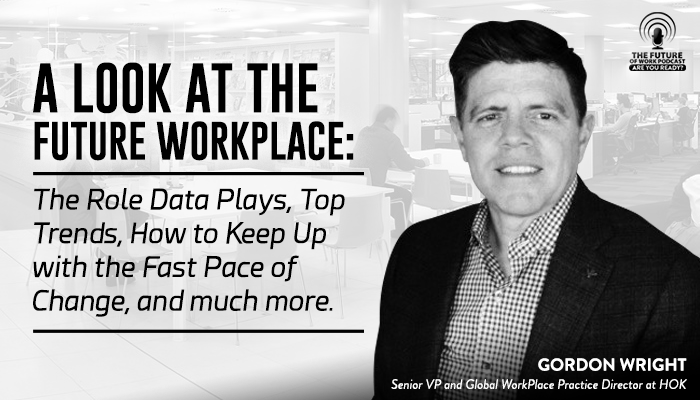 Gordon Wright is the Senior VP and Global Director of HOK's Workplace Practice. Based in Chicago, he leads diverse project teams that solve clients' business and organizational challenges related to real estate business process, strategic planning, workplace strategy and change management. HOK has about 1,800 employees across a network of 23 offices on three continents.
HOK is a global design, architecture, engineering and planning firm. Their mission is to deliver exceptional design ideas and solutions for clients through the creative blending of human need, environmental stewardship, value creation, science and art. Some of their designs include the Atlanta Falcons stadium in Georgia (the first retractable roof of its kind) and the Crick Institute in London, England (used for medical research).
Current trends in design:
1. The employee experience – How do we create a space that people want to go?
2. Providing Choices – Giving people just a desk and chair isn't enough anymore
2. Agility – so people can work anytime, anywhere
4. An attractor – the space attracts people – not only to the workplace but to individual spaces
The role of VR and the gig economy in design:
Current research says that this generation of workers may have as many as 30 -40 jobs. With that in mind, design of workplaces must be different than at a time when people came and stayed for decades in one job.
Those in the contingent workforce, tend to move frequently between jobs. They are more nimble within the organization. So this impacts the design requirements.
HOK is currently using virtual reality in mapping out their designs. This allows clients to have a digital experience of the space before it is actually created. VR mapping is having a significant impact on their current practice.
Wright gave some examples of the differences between now and years ago in regards to the workspace. One thing he mentioned was that space used to be very personal. It used to be that, depending on your rank in the company, you would have a private office or a cubicle that was all yours. You could make your surroundings yours by putting personal items such as pictures or diplomas. Now we have communal spaces – so there is no longer the option to personalize in the same way. But it allows people to collaborate more and choose what type of workspace they want for the day, instead of being stuck in one room.
Open plan environments have challenges and are sometimes only suitable for some employees. We have now gone beyond just open plans. We have co-working spaces, other amenities, multiple options.
HOK has learned that the best workspaces are those in which there is choice. "Choice is the number 1 indicator in how satisfied a person is in their job", Wright says.
So now they have a variety of ways that they can curate a space to provide choice for employees. It can fit the needs of each person.
Wright's advice for managers changing workspace is to pick your design partner wisely. The right partner will work to understand your organization. Also, engage with people within your organization – those that see design is a crucial part of creating a healthy environment.
His advice to employees is to be open-minded about changes in your workspace.
What You Will Learn In This Episode:
• What enters into design consideration from start-ups to institutions
• How AI and the Gig Economy impacts design
• Workplace trends HOK is paying attention to
• The importance of understanding your workforce as you design
• What data HOK looks at when designing an workspace
• How the industry has changed over the past few decades
• The impact companies can have on a community
Link from the episode:
HOK.com
Want to hear more on Workplace Design?
Artificial Intelligence: Debunking Myth From Reality With Luis Perez-Breva, PhD

Four Ways The Workplace Is Changing In The Future Of Work With Monika Fahlbusch

Comments