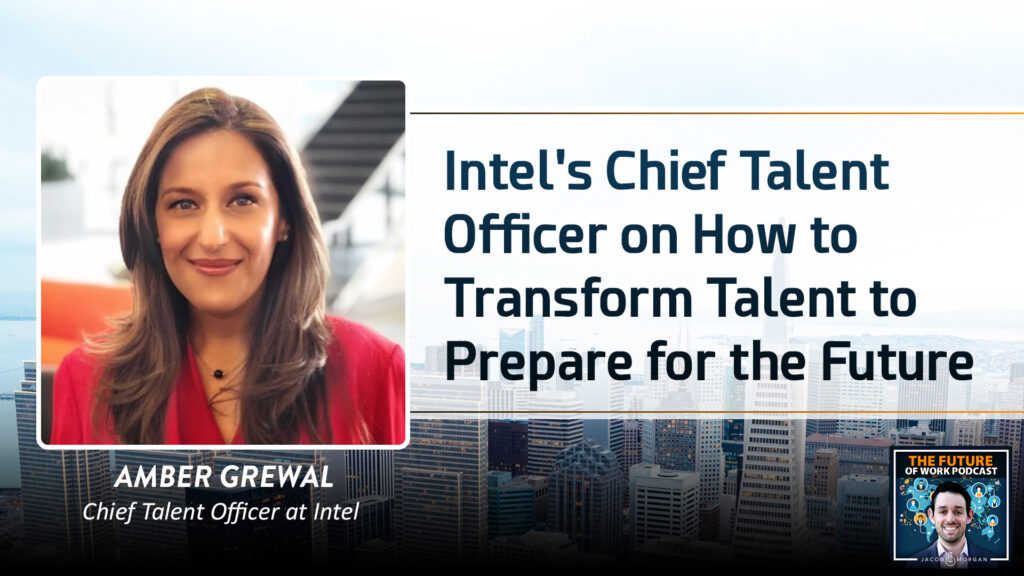 Amber Grewal is the Chief Talent Officer at Intel, a company with over 107,000 employees in 36 countries around the world. Prior to Intel Amber was the Corporate Vice President, Head of Global Talent Acquisition at IBM and the Vice President of Global Talent Acquisition at GE.
Some of the major trends Amber is paying attention to at the moment are:
1. The pace at which technology is growing and changing
2. The change in the average span of a company, which is now around 15 years and how to survive beyond that
3. The growth in the gig economy
4. The desire of employees to know they are doing meaningful work and making an impact
5. Working with a multi-generational workforce
All of these trends are driving Intel to make changes internally and they are directing Amber to figure out how to evolve HR in order to address these challenges. At Intel, they have quite a few programs that their employees can take advantage of.
Create Amazing Employee Experiences In Your Organization
Get started on our FREE training series!
Get Started →
One of these programs is called Freelance Nation that launched in 2014 which gives employees more flexible working options and it helps them develop and refine their skill set. They can try out working in different roles and even different regions.
Another program focuses on training leadership on how to inspire employees in this new era of work. Leadership training and development is especially important now inside of Intel as they are going through some major cultural transformations.
When sharing some insight into Intel's internal transformation, Amber said:
"I would say, to the hard part of what transforming to a PC, to a data-centric company, at the foundation of it is culture. So we are going through, I would say, one of the largest transformations as a company, ever in our history. And the foundation of it is a culture transformation. So a culture of not only who we need to be today, but who we need to be tomorrow, in this dynamic business environment, and how we serve our customers, how our business model is shifting. So as we speak, we're going through a significant cultural transformation. And figuring out what are the behaviors that are needed in order to do this? Holding our, teams, and leaders accountable to that. We've completely have re-looked at, and are rethinking our whole performance management system, specifically to that."
What advice would Amber give to employees who are trying to future proof their career and succeed in the future of work?
She says, "Things are changing so fast, and the reality is it's never going to be this slow again. So being comfortable with uncomfortable is just the new way. And honestly, my advice, whether you're an individual contributor, new in your career, or you're a very senior leader, the one key area that I would tell everyone is, learning agility. That ability to constantly learn is going to be important. Because even if you're a leader who's been doing something for 20 years, you're going to be in a different environment, different workforce, disruptive technologies are changing our business model. So that means your ability to learn and adapt is critical."
What You Will Learn In This Episode:

What the Chief Talent Officer at Intel actually does
How to create meaningful work and help employees discover meaning in what they do
What changes Amber is seeing in what talent wants and expects from organizations
The role of AI and technology in the future
How Intel equips employees for the future of work
Advice to employees on how to succeed in the future
Advice to leaders on what they can practice to stay relevant
Comments