Download the TranscriptClick Here to Subscribe via iTunes
Click Here to Subscribe via RSS Feed (non-iTunes feed)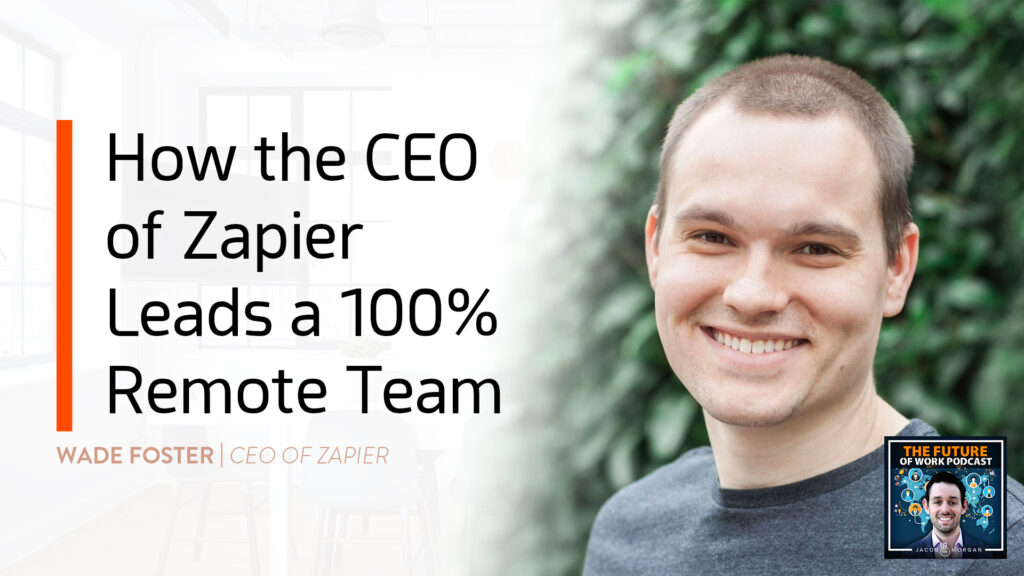 Wade Foster is the Co-Founder and CEO of Zapier, a company that allows you to connect the apps you use daily in order to automate tasks and save time. The company was started back in 2011 as a side hustle for Wade and fellow founders, Brian and Mike. They now have 200 employees all over the world and over 100,000 customers.
All 200 employees work remotely from different locations, they don't have any office buildings. Some managers might worry about leading a remote team, but Wade says there's really no difference between leading an in person team versus leading a remote team. Whether or not you can see your team, the only way to know if your team is getting work done is to see the work, not the people themselves. You may have employees showing up to an office space everyday, sitting at their desks all day long, but it doesn't mean they are being productive.
Wade says all managers, whether they have a remote team or not, need to understand the company's goals, they need to know how to put teams together, and they need to be able to coach and mentor people. Wade believes it is also important for managers to regularly check in with their people to discuss work performance, experience, and even their personal lives.
Create Amazing Employee Experiences In Your Organization
Get started on our FREE training series!
Get Started →
When it comes to building company culture Zapier works hard to make sure employees build relationships with one another. One way they help employees connect is through a Slack App called Donut, which matches up three employees at random. Those three employees have to find time every week to talk with their group. They can talk about anything–books, hobbies, family, etc…they just need to get to know each other. Wade says, "If you kind of already know the person and you know them on a human level, it just makes it easier to connect with them when you get into the trenches and have to solve something really, really tough" They also hold two large in person retreats every year where all 200 employees come together to meet up and connect.
Hiring the right people is also critical when it comes to a remote workforce. Not everyone is a good fit for remote work. At Zapier they look for self-starters, who are motivated, and who have a go get it attitude.
For any organizations looking to incorporate a remote work program Wade suggests, "…don't overthink it. Being a manager in a remote environment is not so different than being a good manager in an office. A lot of the things that you need to do are the same. So, find the remote equivalent of those things and make it happen".
What You Will Learn In This Episode:

●How to manage a remote team
●Why Zapier continues to have a 100% remote workforce even now that they are growing
●Tools to use with a remote team
●What to look for when hiring remote workers
●How Zapier went from a side hustle to a successful business with over 100,000 customers
Links From The Episode:
Wade Foster on LinkedIn
Comments