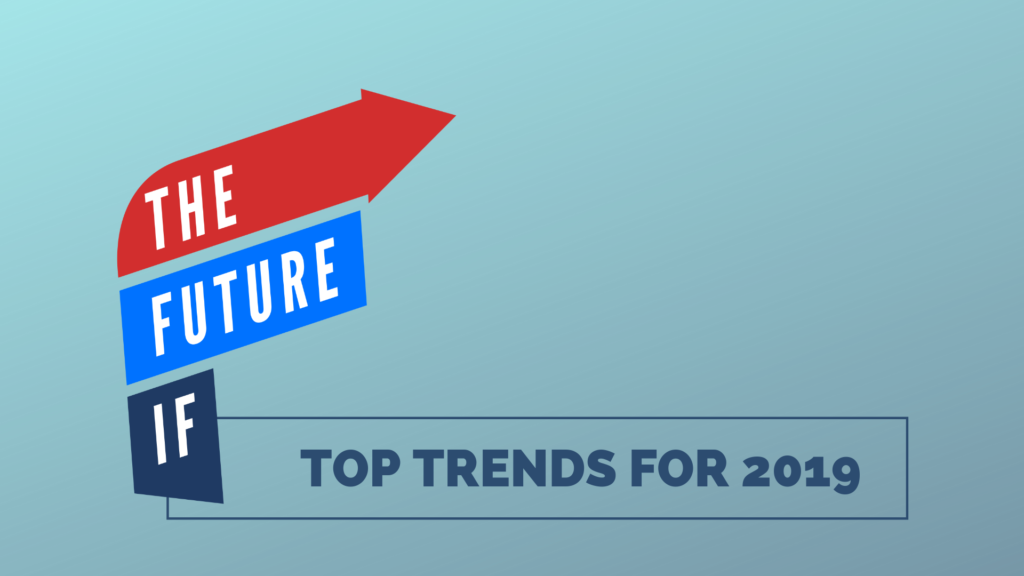 "The Future If" is a global community of business leaders, authors and futurists who explore what our future can look like IF certain technologies, ideas, approaches and trends actually happen. The community looks at everything from AI and automation to leadership and management practices to augmented reality and virtual reality, the 4th industrial revolution and everything in between. Each we explore a new topic and this week we looked at whether we should Fear or Embrace AI, this was the discussion starter we used! Visit TheFutureIf.com to learn more or to request to join the community.
The world of work is constantly changing, and it can be difficult to stay on top of everything. Our community recently came together to discuss their top trends for 2019. These are the things they're paying attention to and what they think will be the most impactful to the future of work.
There were a lot of opinions, but one of the common themes was the changing nature of leadership. The role and responsibilities of leaders have changed drastically over recent years and will likely continue to do so. Founder of Co-Wings Katherina Swings said she is paying great attention to the power of connecting people through inclusion, especially through inclusive leadership. HRIS & Projects Coordinator Felix Alfonso Valverde said open leadership has his total attention.
Organizational structure and the changing nature of work was also a big trend. Many community members said they are watching the change towards allowing employees to be more human. As Harmonics Founder John Fitzgerald said, it's as if we need permission to be ourselves after years of trying to box us into fit hierarchical structures. As organizations become flatter, employees have the freedom to be more human and to be themselves, but it could be a difficult transition. Being human also means speaking up for things that matter and building meaningful relationships and friendships at work. Companies are moving to emphasizing teams over individuals and organizing teams around the complexity of work they address, according to community member Scott Perkins. Along with that comes the trend of finding and retaining top talent. Many companies have started gamifying some aspects of the hiring process, which could be an effective way to support the employee experience.
Other community members brought up data and new technology as big trends. Technology can play a large part in remote work policies. Director of Employee Experience Solutions Josh Olson said he believes that if remote work can be done securely and if workers are still motivated and collaborative, companies could see lower office building costs and free up more capital for other innovations like robots and digital assistants. Along with technology like AI, AR, and VR, data will also play a big role in the future. The growth of big data will lead to questions about its management and security. Technology Strategist Anthony McMahon said he's focusing on how businesses will incorporate the right policies for simple, sustainable data management. After GDPR passed in the EU in 2018, we may see the regulation spreading to other countries, which could put more emphasis on how data is managed.
The top trends for 2019 are as diverse as the members of our global community. There's clearly a lot of things to think about and focus on in the future of work, and we'll likely see drastic changes and developments in many of these areas over the coming year.
Learn the proven & powerful concepts in today's most effective organizations with my free training series on Employee Experience here.
Comments