Click Here to Subscribe via iTunes
Click Here to Subscribe via RSS Feed (non-iTunes feed)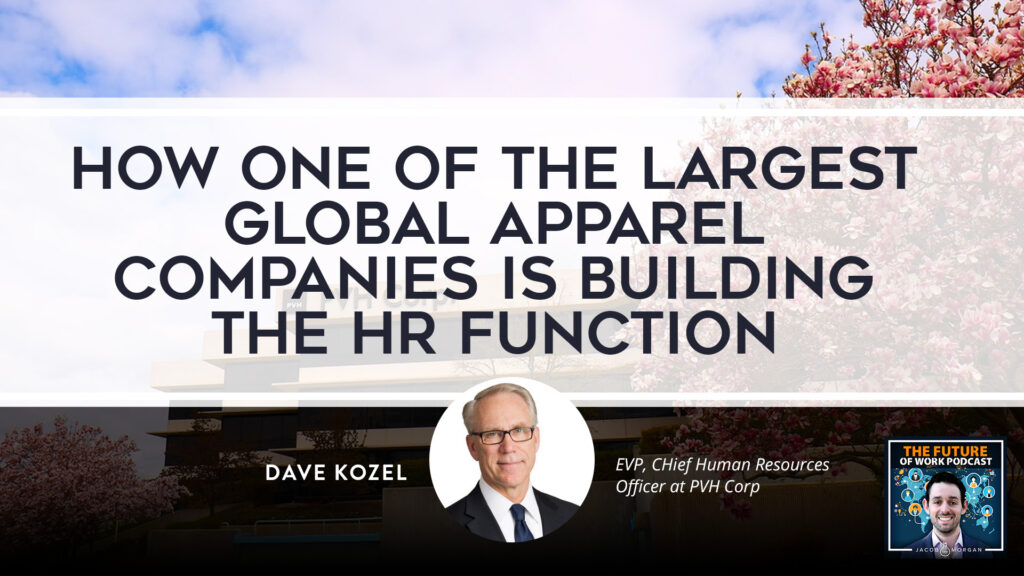 Dave Kozel is EVP and Chief Human Resources Officer of PVH Corp, the global apparel company that owns brands such as Calvin Klein, Tommy Hilfiger, Izod, Speedo and Arrow. PVH employees around 36,000 people and has locations in 40 countries. Dave is responsible for Human Resources, Compensation, Benefits, Talent Management & Development, Inclusion & Diversity, Communications and Facilities for one of the largest global apparel companies in the world.
PVH has been recognized for its commitment to creating an inclusive environment where every individual is valued, including being named one of Forbes' Best Employers for Diversity and earning 100% on the HRC Corporate Equality Index. The Company was also ranked among the top 100 Most Inclusive and Diverse companies globally on the Thomas Reuters Global Inclusion Index and named one of Forbes' and JUST Capital's Most JUST Companies.
Dave joined PVH in 2003 as Senior Vice President, Human Resources, and was promoted to Executive Vice President, Human Resources in 2013. He changed to his current title in June 2015. Prior to joining PVH, Dave served as the Executive Vice President of Human Resources for J. Crew and held executive HR positions at Grey Advertising and Deluxe Corporation. His early career was spent at Citicorp and Pacific Gas & Electric in various Human Resource positions.
Create Amazing Employee Experiences In Your Organization
Get started on our FREE training series!
Get Started →
Dave has a Bachelor's Degree in Political Science from Lehigh University and a Masters Degree in Industrial Relations from University of Illinois.
A major focus of the organization is having a people first strategy in order to bring in the best talent, and keep them engaged and motivated. It also involves allowing employees to be truly successful in what they're interested in from a career standpoint. And if they're successful and engaged, it only increases the company's probability of having success. This is what is driving their leadership curriculum. Dave talks about one of the company's programs, which is the PVH University. It is a fairly robust university program where they have a leadership academy in which they offer entry level,first-time manager training programs and then second-level training programs to managers. They have a global leadership program that works with The Wharton Business School.
When asked about work-life balance, Dave said he believes, people really need to spend, 10% to 20% of their time away from their work. Even while at work everyone should try to designate some time to not think about the day to day and the tasks they have to complete.
The world of work is definitely changing. Some of the most significant changes Dave has noticed include:
●Work environments have fundamentally changed
●The advent of technology has changed the way people work
●The rate of change is so fast, we have to find new ways to work and leverage technology in order to keep up
●One thing that is certain is what we're doing today is going to change tomorrow
Trends Dave is focusing on include:
●It's all about talent
●A people first strategy
●The importance of creating a culture and a workplace that has purpose
What You Will Learn In This Episode:
●How Dave and his team are creating a workplace that can attract and retain the best talent
●Dave's insights and experience building up the HR function at PVH from the ground up
●How Dave deals with being told 'no'
●His advice to HR professionals and managers on how to get new programs in place
●What to do as an HR professional if an employee tells you they are unhappy
●Trends Dave is paying attention to

Dave Kozel On PVH

Dave Kozel On LinkedIn
Get my free training series to create powerful Employee Experiences in your organization.
Comments