Click Here to Subscribe via iTunes
Click Here to Subscribe via RSS Feed (non-iTunes feed)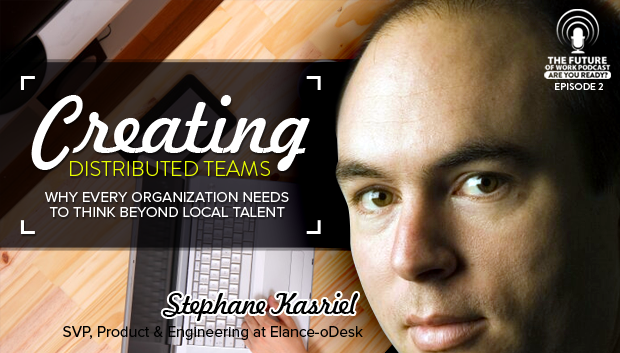 Click here to download the episode (right click and "save link as")

The one stat you need to know
By 2016 Forrester says 43% of the U.S. workforce will be working sometime from home.
What this episode is about and why you should care
Today, more companies are employing the concept of distributed teams. A distributed team is a group of individuals who work beyond the restriction of a traditional office environment by using various technologies at their disposal for communication and collaboration. It doesn't mean that these employees never see each other it just means that their "home-base" isn't a central office or location. Organizations that can create distributed teams are able to see an increase in productivity, more employee engagement, and reduced costs on things such as real estate. Employees also appreciate the extra flexibility that they are offered. Going forward, employees no longer to work in an office to get things done, they simply need to "connect to work." To learn more about distributed teams, why they are important, and how to create them I talked to Stephane Kasriel who is the SVP of Product and Engineering at Elance-Odesk; one of the world's largest marketplaces for freelance employees. Stephane and I co-wrote an ebook together for Elance-Odesk called "Hire Fast & Build Things: How to recruit and manage a top-notch team of distributed engineers." The concepts from that book are applicable to a variety of industries beyond just engineers. Stephane has actually done an amazing job of creating a good size distributed team at Elance-Odesk and in episode 2 of The Future of Work Podcast he shares how he did it and how others can do so as well.
What you will learn in this episode
What a distributed team is and what it looks like
Why invest in a distributed team
Challenges in creating a successful distributed team
How Elance-oDesk' s distributed team works
How flexible work and freelancers play a huge role in distributed teams
How to manage communication and collaboration among distributed teams
Solutions for people who aren't freelancers that work for distributed teams
Benefits that small, medium-sized, and large organization's get from distributed teams
Examples of companies that have distributed teams
Impacts of issues related to culture, promotion and career paths in having distributed teams.
The future of distributed teams
Links from the episode:
Hire Fast & Build Things: How to recruit and manage a top-notch team of distributed engineers (Amazon)
Comments