Every week, I interview top business leaders and experts on my podcast, Leading the Future of Work. They share best practices and stories from their careers about how you can become a future-ready leader.
These interviews are engaging and enlightening, but there's one problem: there's always more to say.
That's why I launched my bonus podcast, Future of Work Plus. If you've ever wanted real action items from top leaders that you can put into practice today to become a better leader, this is the place for you.
Every week, you'll get access to exclusive, practical content from my podcast guests for best practices and advice they aren't sharing anywhere else. You'll learn their best tips for success on topics like change management, productivity, setting a vision, and leading through tough times. At the end of every episode, you'll have a list of action items to try today.
The main podcast shares the stories and big pictures–the bonus podcast is where you get practical tips to try immediately. This podcast is your chance to get mentored by the best brains in business. In short, 15-minute interviews, you'll gain a wealth of knowledge to transform your leadership skills and mindsets.
The goal of this podcast is to help you become a future-ready leader. And there's no better way to do that than with tips from the top you can't find anywhere else.
This is one of the best ways to invest in your future as a leader. For just $4.99/month or $49.99/year, you'll have access to a library of exclusive content and weekly episodes from new guests.
Fast-track your path to leadership success with Future of Work Plus. I can't wait for you to hear all the content we have in store!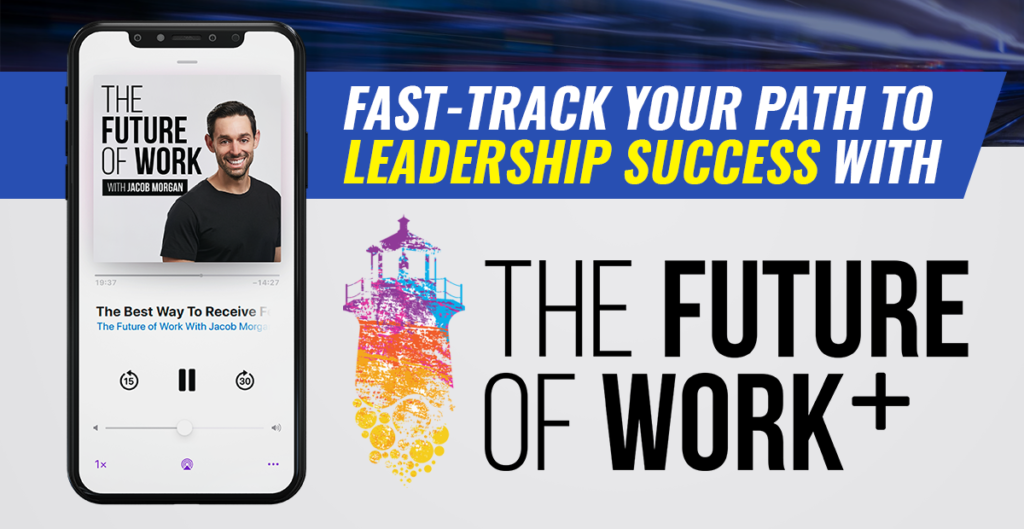 Comments