What is employee experience?
It's a question I'm asked regularly and something many organizations struggle with.
But it comes down to this: employee experience combines employees' expectations, needs, and wants with the organizational design of employees' expectations, needs, and wants.
Every employee has expectations and needs. When they work for a company, they have an idea of what it will be like and what they're hoping to get out of it. They may expect to be challenged, develop professionally and personally, work on a team, or grow their skills. To do that, they need an environment that fosters collaboration, the right technology, training opportunities, and a flexible schedule. That's one side of employee experience design.
On the other side is the organizational design of employees' expectations and needs. This is what the organization needs to succeed and the company's view of what employees want. Leaders may think employees want free lunch and better pay to keep them with the company. They may be limited in their budget or reporting structure.
Employee experience happens when these two sides come together and focus on their similarities. Organizations can't create an employee experience plan without knowing what matters to employees, just like employees have to consider the organization's constraints.
Employee experience changes core workplace practices to make real organizational change that supports employees and matches their expectations. It requires intentional design and strategy.
Employee experience is created just by leaders. It involves every person in the company to create an environment where everyone is empowered to succeed.
. . .
Companies with better employee experiences have more engaged and productive workers, higher profits, and the ability to attract and retain talent. In today's competitive talent landscape, companies can't afford not to invest in employee experience. Download your copy and start creating better experiences for your employees and customers today!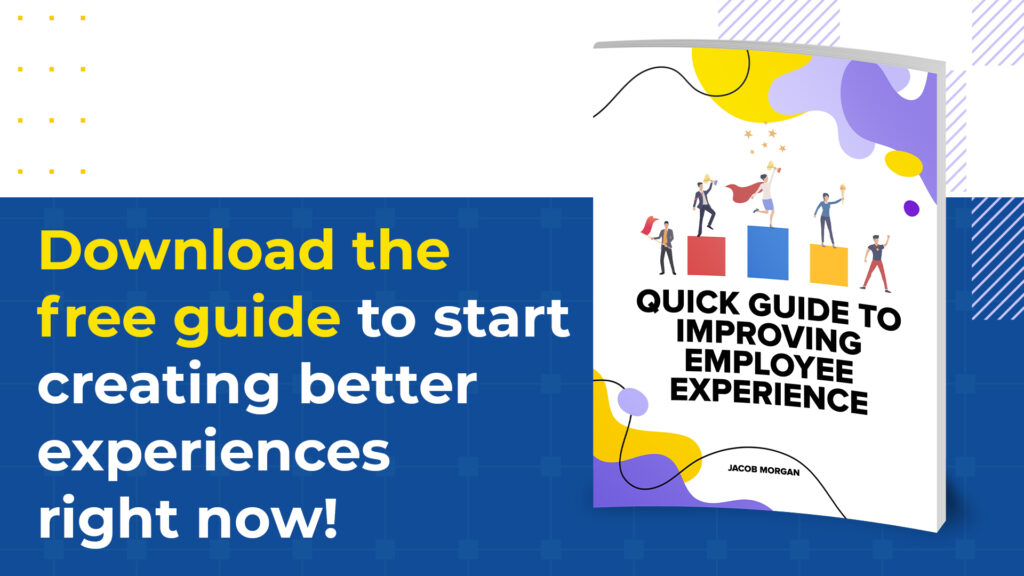 Comments