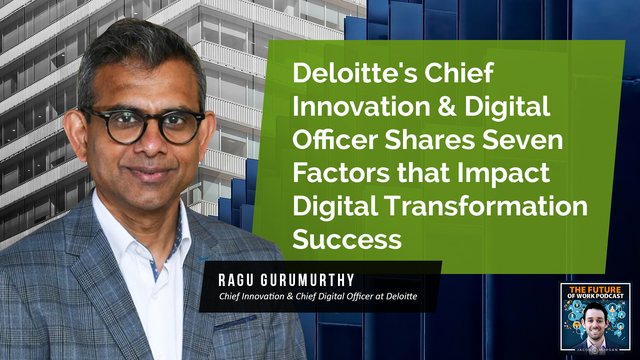 Ragu Gurumurthy is the Chief Innovation and Digital Officer at Deloitte, the world's largest professional services company with 240,000 employees around the world. Ragu has been with Deloitte for over 13 years. Prior to that, he worked at companies like T-Mobile, Morgan Stanley, and AT&T.
In March 2019 Ragu authored a report titled, Pivoting to Digital Maturity: Seven Capabilities Central to Digital Transformation that looks at why some digital transformation efforts succeed while others fail. In the report, he explores seven digital pivots that can improve the chances of success for organizations going through digital transformation.
Create Amazing Employee Experiences In Your Organization
Get started on our FREE training series!
Get Started →
So what does digital transformation actually mean? Ragu says, "There are so many ways of defining digital transformation. It's an eye of the beholder, so to speak. Simply put, the way at least we would define digital transformation, it is about becoming a digital enterprise, holistically, by leveraging data, technology and people, data technology and people to evolve all aspects of the business; what they sell to their clients and customers, how they operate the business and how they sell to their customers. How do they relate to the… How do they reach their customers? How do they serve their customers in terms of customer experience? It is really thinking about all the aspects of business enabled by data, technology and people."
As a whole, when asked where the business world is at in terms of digital transformation, Ragu says we are still in the very early stages.
Ragu believes that although the digital era is upon us, it's not all about technology. People are important, in the words of Ragu, "people are very important. I see them as the quarterback in this transformation." A mixture of technological intelligence and human intelligence is what Ragu believes will get us to a new frontier.
The seven digital pivots Ragu explored in his report are:
Flexible, secure infrastructure
Data mastery
Digitally savvy, open talent networks
Ecosystem engagement
Intelligent workflows
Unified customer experience
Business model adaptability
Ragu's advice for organizations looking to go through digital transformation is, "the biggest advice I have is to do a thought experiment. Think about, how would I use technology, data and available AI software, voice recognition, it could be semantic language processing. You don't need to be a technologist. Read basic at the highest level, what do these things do and see how can I use it to solve the problem differently? That's my advice, think about doing things differently in different things as a supporter would say, what exactly you can do and go do it. Experiment and learn."
What You Will Learn In This Episode:
A look at Ragu's report: Pivoting to Digital Maturity
What it looks like to be a digitally transformed organization
Trends Ragu is paying attention to
What skills are needed to go through digital transformation
What Deloitte is doing internally to digitally transform
How to overcome the challenge of change management
Comments