Involver is a fairly new company based in San Francisco that has created a platform for video marketing and distribution.  Sure, I know what you're thinking "haven't you heard of youtube?"  Well yes, but although youtube videos receive a lot of views, they does not focus on conversion, the Involver videos do.  Involver is doing something completely different.  To put this in perspective, think of what ning has done with social networks.  Ning is a white label platform that easily allows you to customize the various features that your social network can display.  Involver allows you to customize such features for video.  Not only that, but Involver also provides comprehensive reporting and analytics so you can get information on how many times your video has been shared, viewed, etc.
First let's take a quick look at how to get started with creating your own campaign in 4 simple steps.
Step 1- enter your campaign name and click through URL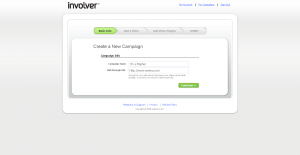 Step 2- choose how you want to upload or locate your content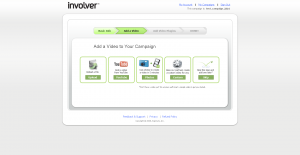 Step 3- choose your features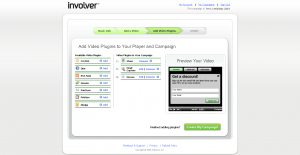 This is the really fun part, here you can see the features that Involver currently allows you to implement.  Let's say you want to insert your RSS feed into your video, simply click the "add" button and voila.  Now, when people watch the video a little button will appear at the top that will say something like "more," users will click the button and will then be taken to your RSS feed content.  Another example, let's say you want people to purchase something after watching your video or enter in their e-mail address to receive some sort of promotional offer. All you do is click the "add" button and a little screen will pop up asking you what message you want the users to see, what link the user needs to click on purchase something (if you add this feature), or will ask for their name and e-mail address if you want them to subscribe to something.
Step 4- get your facebook application or get help promoting your video from Involver (for a fee)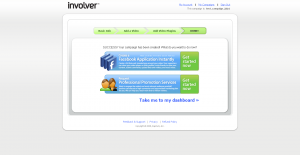 Facebook is actually the recommended solution for video distribution at the moment because it is the most robust and effective solution that works with Involver.  Once you upload your video and complte the steps you can then generate your own BRANDED facebook application.  You may also use Myspace or Hi5 but there is some manual deployment that needs to be taken care of on the back end.  Not a big deal since I would personally choose Facebook over Myspace and Hi5 anyway.
If you noticed, Involver also has an option that is called "request promotion plan."  This is an option that many companies want to choose if they wish to have someone on the Involver team work with them to create a strategy and provide guidance on the video launch and marketing efforts.
Now, let me stop here for a moment and say…Wow!  Ok…deep breath, there's more.
Let's take a look at the dashboard screen to see how easy all of this stuff is to manage.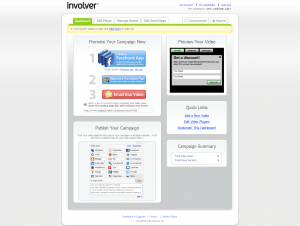 This is a screen shot of the Involver dashboard.  Currently Involver is working with social networks such as Facebook, Myspace, and Hi5 for it's video distribution, but notice how many social media platforms Involver allows you to publish your content on.  As mentioned before, Facebook is probably your best bet for a marketing and distribution channel at this time, but know that you do have options.
The tabs on top "edit player, manage assets, and edit social apps," give you the simple yet powerful functionality to control your content, distribution channels, and features (to name a few).
So your campaign is running on Facebook, now what?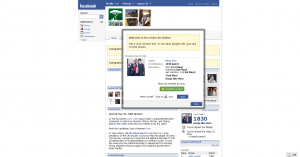 First of all, let me mention that Involver has a unique way of getting people to participate, in addition to the various features you can add to make your video more marketable and interactive, Involver also implements a point system.  Think of the linkedin point system that tells you how complete your profile is at each step of the way.  Involver assigns points to reward the most active participants and "spreaders" of the videos.  The points are public, so everyone can see how everyone else is doing, this makes it a bit more fun and engaging.  Not only that, but users can send each other stars, can cheer each other on, etc. to help motivate and reward each other.  Activity is also reports in the Facebook minifeed so if I'm interacting with a particular campaign, my friends will be able to see it and hopefully join in as well.
This is what the actual video player interface looks like, you can see the "share, discuss, and @#$% It' "features" as well as the points that were rewarded.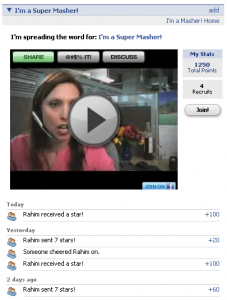 So, this is Involver.
I had the opportunity to speak with Jim Schaff who I believe is helping manage their PR and marketing and Rahim Fazal, the CEO of Involver.  Both are smart guys with a clear vision and idea of where they want their company to go.  There is a lot of potential here for Involver but all of the responsibility for a successful video launch should not rest solely on their shoulders.  In order for a brand or company to succeed with their video launch they need to be smart about their marketing.  It's not enough to just use Involver to put up a bunch of videos.  You need a strategy behind it and you have to be creative.  You need to think about how you can get people to interact with each other and with the video.  This is why it may be a good idea to go with the "request promotion plan" option so that the Involver team can input their creative guidance and strategy recommendations.
Involver is really changing the video distribution and marketing game, I am looking forward to seeing how the smart and creative marketers out there are going to use Involver.
How would you use Involver?
Thanks for reading
Comments