It's safe to say that the employee of tomorrow is not the same person as the employee of yesterday. The five trends shaping the future of work helped make sure of that fact. A few weeks ago I also shared another visual called The Evolution of the Employee which compares employees of the past and future. Oftentimes when I speak at conferences or visit with companies they ask me how the way we work is changing and so that prompted me to put together something called the 7 Principles of the Future Employee. The best way to think about this is as the 7 core ways that employees of the future will work. These are detailed in my latest book on the future of work but a brief summary can be found below.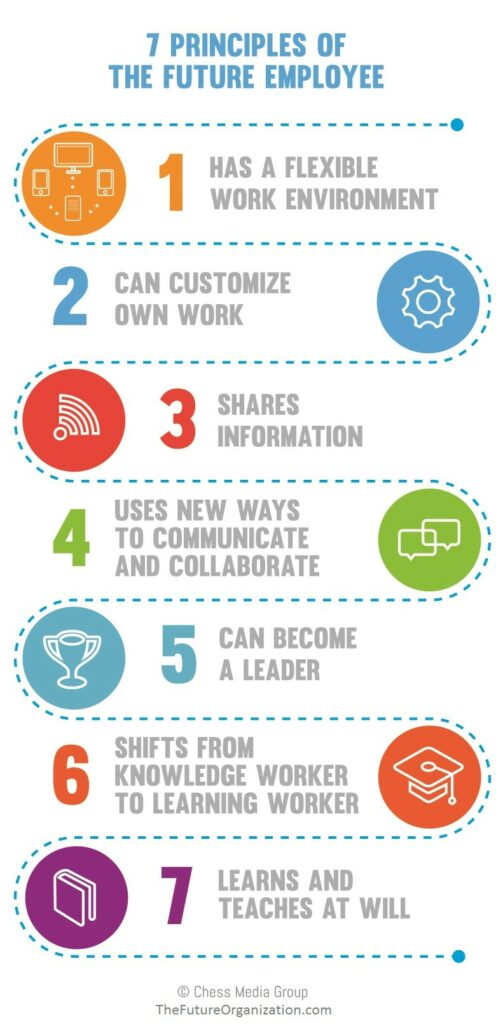 Has a flexible work environment– Employees are no longer bound to the office where they are forced to commute an hour each way, sit in a cubicle, and work 9-5. Most employees will become location independent and will be able to work when and where they want as long as they can get access to wifi.
Can customize work– I talk about several ways to customize work in by book. The basic concept here is that being hired in one role for a long-term career is dead. Employees will be able to shape their career paths and choose the projects they work on. "Work" will become more like a "choose your own adventure game" vs "finding your way through the maze."
Shares information– The mentality of "knowledge is power" meant that employees hoarded information so that nobody else could take credit for their ideas. Unfortunately this doesn't help anyone. The mentality going forward is all about, "sharing is power." The employees who share their ideas and information and use collaborative technologies and internal social networks are going to be the ones that succeed and grow their careers.
Uses new ways to communicate and collaborate– Email is no longer the most effective or efficient way to communicate or collaborate. Many emergent technologies such as internal collaboration platforms are going to start to replace email in many situations.
Can become a leaders– For the first time in the history of business, employees have the unique opportunity to become leaders within their organizations by sharing their ideas and feedback in a public and transparent way for their peers, managers, and executives to see. Never before were employees able to build their networks within an organization at scale and get recognized for their contributions, technology has dramatically empowered employees!
Shifts from knowledge worker to learning working– Knowledge is a commodity, to be the smartest person in the room all you need is a smartphone. What is far more valuable than knowledge is the ability to learn new things and apply those leanings to new scenarios and environments. This is what the employee of the future needs to focus on, "learning to learn."
Learns and teaches at will– The traditional way to learn and teach was largely guided and dictated by organizations who set out training programs, manuals, and set courses. Technology is connected employees and information together anywhere, anytime, and on any device. This means that learning and teaching can happen between employees without official corporate training programs or manuals. Have a question? Tap into the collective intelligence of your company. Want to show someone how to do something? Whip out your smartphone, film it, and upload it to your organizations collaboration platform for your peers to see.
These are the 7 Principles of The Future Employee…this is how work will get done over the next few years and it has already started in many organizations around the world.
Comments