Click Here to Subscribe via iTunes
Click Here to Subscribe via RSS Feed (non-iTunes feed)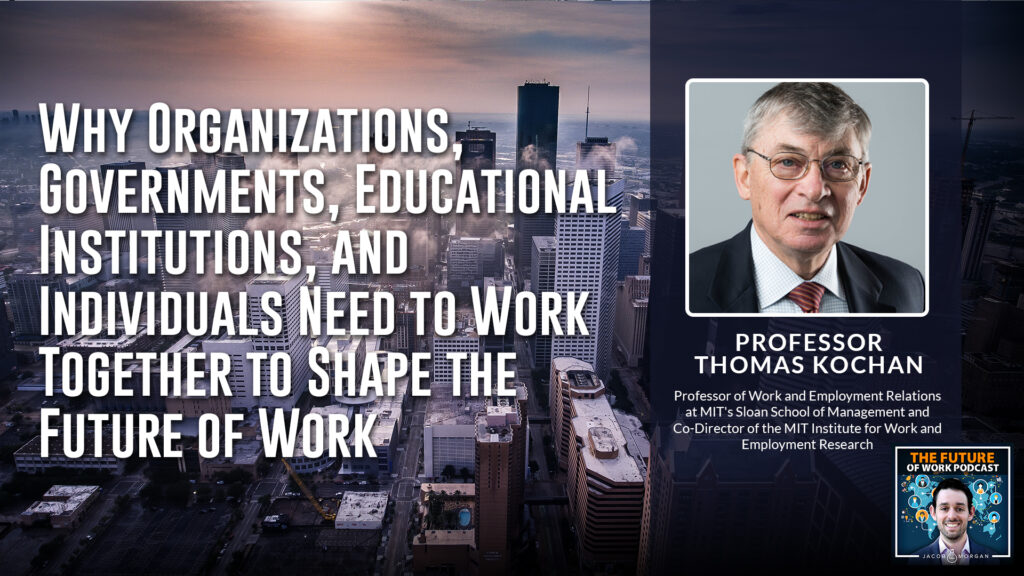 Thomas Kochan is the George M. Bunker Professor of Work and Employment Relations at MIT's Sloan School of Management and co-director of the MIT Institute for Work and Employment Research. Thomas has actually been a faculty member at MIT since 1980. In 2010, he led the formation of the Employment Policy Research Network, an online think tank on the subject of employment. In 2015, he was honored by the Aspen Institute with a Faculty Pioneer Lifetime Achievement Award for his research and teaching on business practices that contribute to an economy that works for all. Thomas is the author of Shaping the Future of Work: What Future Worker, Business, Government, and Education Leaders Need To Do For All To Prosper and Restoring the American Dream: A Working Families' Agenda for America.
Create Amazing Employee Experiences In Your Organization
Get started on our FREE training series!
Get Started →
Thomas has been looking at the future of work and employment for 40 years, he has seen the workforce and the economy change quite a bit over the years but he says our policies, values, and practices in America have not kept up with that pace of change. It has been his lifelong work to advocate for innovation, policy changes, and updated workplace practices.
Since the 1970s there has been a disconnect between how the economy is doing and how the average worker is doing. Prior to the 70s when productivity went up and the economy got stronger, the compensation for the average worker also went up. But now, Thomas says, due to deregulation, the rise of Wall Street, a decline in unions, and advances in technology we have a disconnect. We are still using the policies, practices, and social contract of the 50s and 60s, which no longer works.
Thomas says it is critical for organizations, educational institutions, government, and individual employees to engage with each other and work together to build a new, updated social contract. We've got to invent new policies, practices, and institutions as we move forward and shape the future of work.
When it comes to the future of work, some people are worried about the future of jobs. They are concerned when they hear about automation, AI, and other technologies because of the effect they will have on jobs and the economy. Thomas is optimistic, as long as we are proactive in shaping the future of work ourselves and we don't just let the future happen to us while we sit back passively.
Thomas says, "If we are proactive, we can shape the future of work in ways that really help to broaden the distribution of benefits, augment work more effectively and change the way in which tasks and work, our jobs are done rather than to just see it as a way of displacing labor. And then for those people who will be displaced, and there will be people whose jobs are negatively affected. We then have to figure out how we can help them just provide retraining or provide compensation so we don't have a big gap between the winners and losers in this race with technology. So our perspective is let's get on and let's talk about what we can proactively do to shape the future of work. And I think it's a healthy way to approach this issue."
For people who are worried about the future of work, Thomas' advice is to be a lifelong learner, don't just put your head in the sand and think you have a degree so you are good for life. That is no longer good enough. He also says it is important to have a mix of behavioral skills–be reliable, be flexible, learn to communicate well. If you need training in a new technology or program, speak up and be assertive.
What You Will Learn In This Episode:

●Big trends Thomas is paying attention to
●The changes Thomas has seen in the world of work over the past 40 years
●What we need to do to move forward and shape the future of work
●What leaders will need to adjust in order to be effective in the future of work
●What is the voice gap and how can we close it
●What does lifelong learning mean and how can you practice it
●Whether Thomas is an optimist or pessimist when it comes to the future
Links From The Episode:

Tom Kochan on LinkedIn
MIT Management Sloan School Directory
Comments