What is the future of work?
It's a question I'm asked everywhere I go—after every speech I give, during every meeting with executives, and in countless comments and emails.
The truth is that I don't know what the future of work holds. I can't predict the future.
But it's also the wrong question to ask.
Asking "What is the future of work?" is passive. It assumes the future is something that just happens to us and that there's nothing we can do about it. All we can do is brace for impact and take what's handed to us.
This is the wrong way to think about the future.
The future is something that we create, design, and build.
We need to flip the conversation. Instead of asking "What's the future of work?", you need to ask, "What's the future of work you want to see happen?" and then think about what you can do to make that future happen.
I put together a video which talks about this in more detail. Please check it out below and if you want more content like this you can subscribe to my Youtube channel.
Changing how you think about the future of work puts you in the drivers' seat and makes each person an active participant. The people who step up to shape the future of work will find great success and change the world.
So ask yourself, what is the future of work that you want to see happen?
And then go make it a reality.
. . .
Now more than ever, we need to put people first, COVID-19 has made sure of that. But what does that mean and how do you do it? I recently did a webinar where I share 5 strategies that you and your organization need to focus on. I decided to make this webinar accessible for free to anyone who wants to watch it over the next few days. Just click here to access it.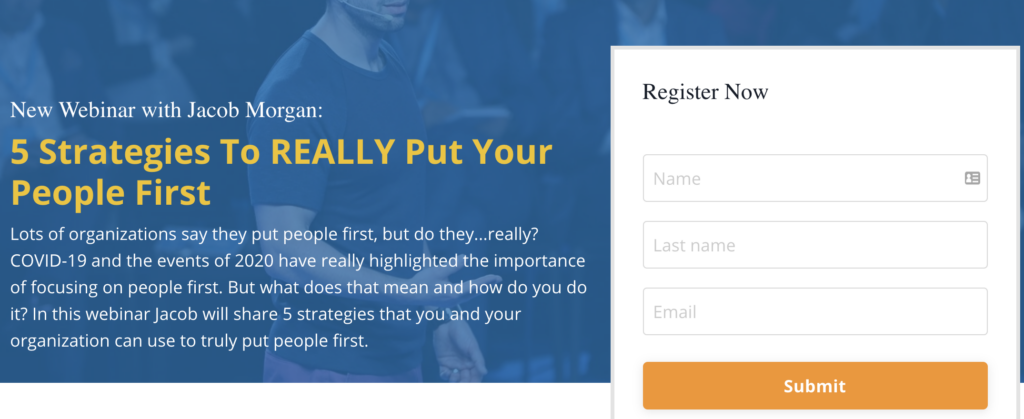 Comments