Click Here to Subscribe via iTunes
Click Here to Subscribe via RSS Feed (non-iTunes feed)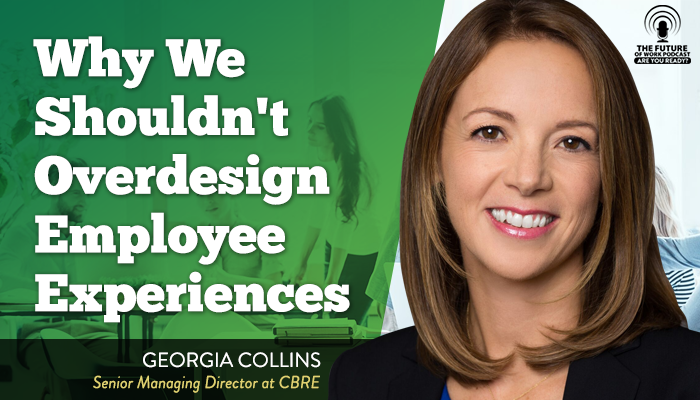 Georgia Collins is the Senior Managing Director and Co-Leader of the Workplace Strategy Practice at CBRE. CBRE is a Global commercial real estate company that 'helps clients identify opportunities to reduce and/or reallocate their costs, more effectively manage their resources, improve employee engagement and make decisions faster'. With specific responsibility for research and development, Collins' focus is on enhancing and expanding their service offerings so that clients can better understand, and more effectively deliver, environments and services that improve employee effectiveness and act as competitive differentiators in the war for talent.
Collins has more than 15 years of experience in the field of workplace consulting. A recognized leader in the industry, Collins' project experience spans a wide range of markets and industries.
Prior to joining CBRE, Collins led strategic business consultancy DEGW's North American practice where she led significant engagements for companies like Autodesk, Cisco, eBay and Microsoft. Prior to DEGW, Collins worked as an urban planner for Sasaki Associates.
Change management considers how to create workplaces that inspire and allow people to work at their best. When opening a new office, CBRE uses 80% of standard resources – market stand-up desks, for example. The other 20% are designed to be specific to that particular office. The time spent defining what makes each location special is an important part of the change. So offices in Hawaii look and function differently than those in Chicago.
Three steps in the process to successful design is thought of as a pyramid, with the base as the foundation, the middle, relational and finally the top of the pyramid is transformational. Specifically,
1. Foundational – what are the things that people need to do their job? (i.e., fast internet or parking)
2. Relational – how do you enable people to build their internal networks? (collaboration areas, break rooms, etc.)
3. Transformational or differentiating – what makes this particular organization special?
Collins' advice for corporations is threefold. First, consider how to strip out the friction in work. Second, think about how to elevate the work experience. And third, intentionally don't 'plan' everything
What you will learn in this episode:
● What Workplace360 is
● Why CBRE decided to make some changes and how they figured out what changes to make
● How to get people that are reluctant to embrace change to come along
● What is 'life admin' or 'work admin' and how it might work for your office
● Personalization in an open office – is it possible or necessary?
● How to avoid over designing employee experiences
Links from the episode: