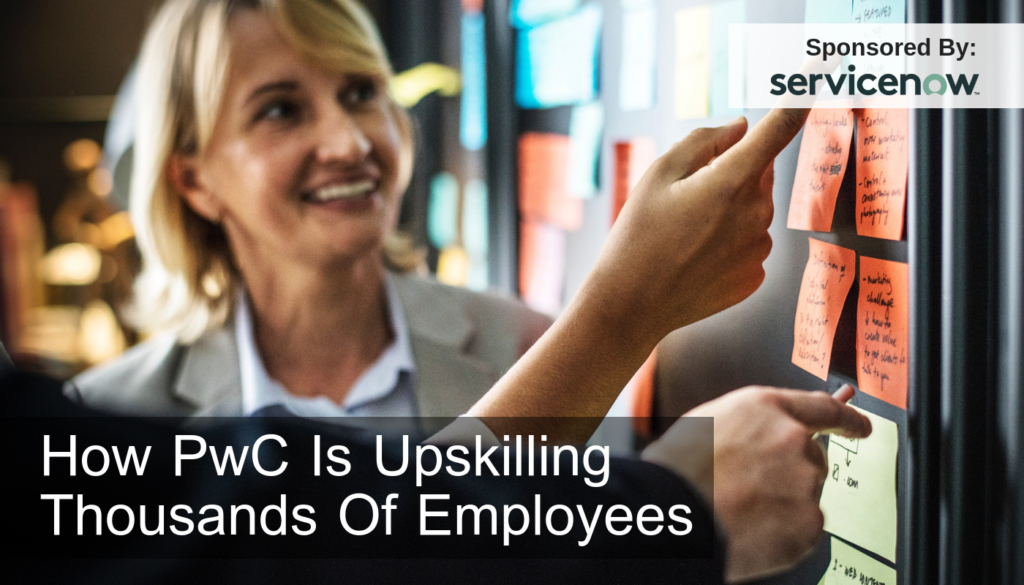 It's no secret that technology moves quickly. Much of the technology we depend on today wasn't even around five or 10 years ago. It's an exciting time, but the growth of technology can also bring a lot of anxiety. People are worried about getting left behind and not being able to contribute at work or in society.
PwC's unique approach to upskilling helps ease those fears and create a workforce that is excited and prepared for new technology. Every PwC employee, no matter their position or where in the world they work, has the opportunity to upskill for the new digital economy. PwC Chief People Officer Mike Fenlon compares it to being physically fit. Just like we need to stay healthy, we also need to stay digitally fit so each person can reach their individual potential.
Every PwC employee has access to an app that gives personalized feedback on their digital fitness level. The app connects people to various learning modules and resources on topics ranging from blockchain to IoT and AI. The goal is to reach every employee and not leave anyone behind.
Learn The 12 Skills You Need For The Future Of Work
Get started on our FREE PDF Guide!
Get Started →
Employees who are particularly adept in technology or who want to move through the material faster can opt in to a fast track program. Even employees who don't have a tech background can become fully equipped with new skills in a short amount of time and make a big impact in the company. The program gauges each employee's interests and skill level and creates a personalized outline of practice areas for a holistic approach to digital fitness.
Part of the reason for PwC's upskilling success is that it listens to employees. Teams are allowed to adjust and create their own programs to meet their individual needs. No one is forced to push themselves faster than they want, but PwC employees are so excited about the resources and growth potential that thousands are clamoring to join the Digital Accelerator Program. In the fast track program, employees not only gain technical knowledge but also develop leadership skills and work in teams to talk through roadblocks and issues. Aside from the Digital Accelerator Program, other employees participate in topic-specific fast track programs.
PwC's program is successful because it's detailed and personalized, but also because it's for everyone. The company doesn't pinpoint who gets to gain new skills; the opportunities are available and encouraged for everyone. In order for each person to achieve their own potential, the program needs to be inclusive.
Digital fitness is a continual process. No one is ever really done learning. As the dynamic program evolves, employees can continue to get the skills and knowledge they need to thrive in a digital environment.
Instead of being anxious about the future, PwC employees are empowered and engaged as they gain new skills and opportunities.
This article is based on a recent episode of The Future Of Work Podcast. Click here to listen to the full podcast episode.

This episode of The Future of Work Podcast was made possible by our friends at ServiceNow. Please show your support by checking out the great work they are doing!
Give employees the service experience they deserve because everyone deserves great experiences at work. Eliminate frustration and improve employee satisfaction with a single access point for efficient, personalized HR services. ServiceNow helps you put service at the heart of your business. Start today.