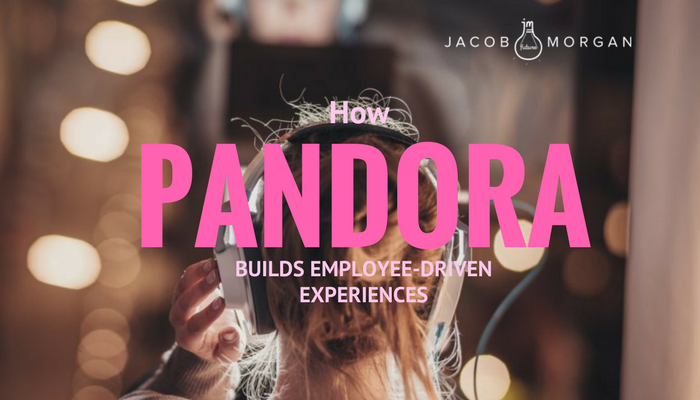 Users of the popular internet radio service Pandora know how personalized the service can be–each user creates a station based on their favorite artists and then gets a personalized station of songs they might like. As users favorite songs, their station is honed with their personal preferences, meaning a Taylor Swift station for one user could be completely different from someone else's Taylor Swift station. The same idea of personalization also plays a role on the other side of Pandora with its employee experience.
Pandora is known as being a great place to work, and much of that comes from a strong focus on creating a positive experience for employees. But unlike many other organizations, employee experience at Pandora is largely driven by employees. The overall goal of the HR department and managers is to create a work environment where everyone can be themselves and have as unique an experience as a Pandora radio listener.
According to Kristen Robinson, Pandora's Chief HR Officer, there's a war for talent going on with companies fighting to get the best people. To attract top employees, organizations need to stop relying just on offering more money and instead focus on the entire work experience. In the end, the companies that enable their employees to be the happiest are the ones that have a strategic advantage and are more successful.
Instead of executives telling employees the programs and perks that are being implemented to improve their experience, Pandora lets employees give their input and make their work experience completely unique. Each employee is given 40 hours of paid time off to volunteer each year and can use that time however they want. Some employees volunteer at schools throughout the year, while others spend the time with a week-long program around the world. As Pandora employees serve in the community, they also take part in service opportunities through Pandora partners and enjoy time away from their desks and serving others. No matter how an employee wants to give back with their allotted time, they can make it happen.
Pandora also runs an innovative program called PERGs, or Pandora Employee Resource Groups. Any employees with a shared interest can get together in groups of five or more people and apply for $1,000 in funding from the company. PERGs range from anything from wine tasting to public speaking and are a great way for employees to get together outside of the traditional work environment to focus on commonalities. There are currently more than 150 PERGs, meaning there's a group for just about every kind of employee. Pandora has found that when employees can connect in a unique manner, that collaboration comes back to the office and leads to a better work environment.
Pandora is also all about making their employees feel comfortable at work and integrating its external brand into its internal messaging and culture. The company hosts white board sessions that feature Pandora musicians giving a short concert to employees in the middle of the workday. The concerts remind employees of the company's goals and also serve as a way to relax and connect with musicians. There's also a large focus on a comfortable office space, seen through Pandora's open office with spaces designated for group work, socializing, individual work, and more. No matter how an employee prefers to work, there is a good spot for them somewhere in the office. According to Kristen, one of the best ways to spur innovative thinking is to change the office space and create something new, engaging, and energizing.
Not every organization has an employee experience like Pandora's, but that doesn't mean the experience can't be improved. Kristen recommends that managers get employees involved and engaged in the changes they want to see. Encourage employees to take initiative and then support them in their desired programs and changes. Employees wanting to see an experience change can share their interests and start planting seeds towards improvement.
The perfect Pandora station is different for each person, just like each person values different aspects of the employee experience. By giving the power back to employees, each person can create their own, customized ideal work environment.
Comments