Mike Abrashoff is the former commander of the USS Benfold which is a $2 billion dollar Burke-class guided-missile destroyer capable of carrying up to 90 tomahawk missiles. And this entire ship is run by over 300 men and women in their early 20's. Mike transformed the ship and the crew from being one of the worst performing in the fleet to the best by using counter-intuitive practices he implemented, mistakes he made during his leadership journey, the importance of culture, and why putting people first is always the best solution for success. Mike is also the author of the best-selling book, It's Your Ship.
Taking Command: The USS Benfold 
Michael Abrashoff was in his thirties when he took command of the USS Benfold, a guided missile destroyer and one of the worst-performing ships in the navy. When Mike took over, the retention rate was 8%. Meaning, they were only retaining 8% of the sailors eligible to reenlist. The ship had one of the highest accident rates of any ship in the Navy and some of the lowest performance metrics.  By the time he left, the USS Benfold was one of the highest-performing ships on the fleet. Abrashoff came to the conclusion that the best thing he could do was build a culture around his crew and implement the importance of culture, and why putting people first is always the best solution for success.
Solution for Success
When Mike took command of the ship, he realized that the "my way or the highway" style no longer worked. If he wanted to become the leader in his industry, he needed to change to become better. Mike implemented a culture where people were treated with respect and dignity, and where his crew took personal accountability for the results. In the end, Mike had 300 people taking personal accountability and collaborating together, which resulted in his fleet becoming the best. To get to know his crew, Mike created index cards of each crew member to get to know who they were, their families and where they were from. He made it a priority to get to know them and to listen to them. Mike also created an interview process to ask each crew member what they liked, what they hated, and what they wanted to change, allowing the crew to feel heard and validated.
——————————————
Namely is the all-in-one HR solution that makes life easier for your employees, your boss, and you! From onboarding and payroll to time tracking, benefits, employee engagement, and so much more, Namely's all-in-one integrated HR platform is designed to be used by everyone, every day – whether you have 50 or 500 employees. Build a Better Workplace with Namely. Get a Free Month of unlimited access to Namely at Namely.com/FOW today!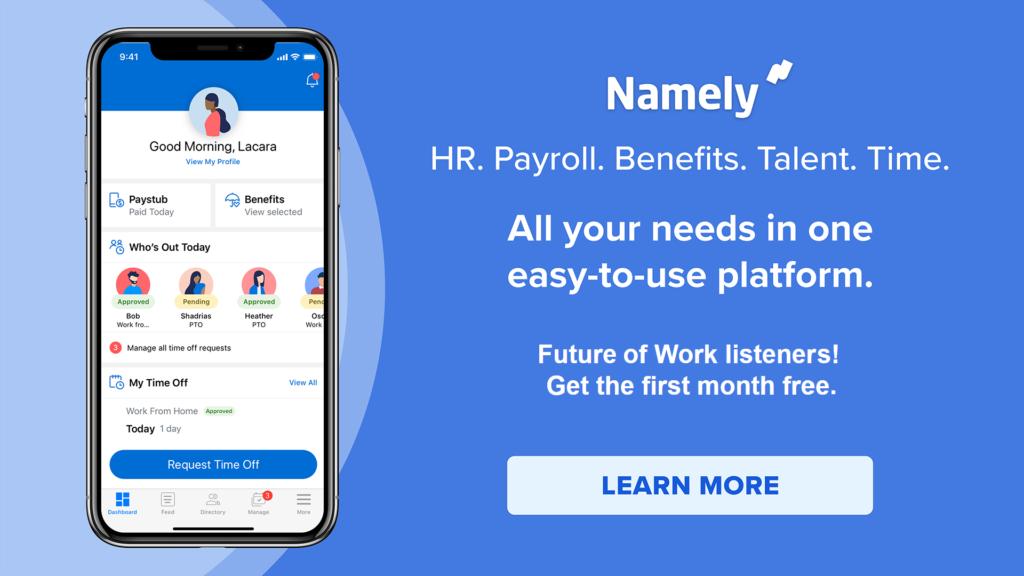 It's Your Ship
Mike focused on what he could change, being primarily his crew's attitude, and the culture he created for his fleet. He used a process of replacing the command and control with respect, commitment and loyalty to his crew by empowering each individual on his fleet with respect of becoming the best. By his implementation of  Innovation and progress, his crew felt comfortable and motivated to go above and beyond. Mike also set clear communication by defining both the vision and the mission of the organization for the crew to become more invested in the ship, which helped with their performance. Mike also speaks about for greatness to occur, everyone in the organization must feel comfortable with taking risks. Being a leader, you need to ensure that your crew knows the limits in which they can operate. If they think outside the box, that can be rewarded, even if it does not always end in success.
Mikes Leadership Lessons
According to Mike Abrashoff, the key to becoming a successful leader is to become a completely different leader yourself. Establishing relationships with each crew member to redeem them by encouraging growth, which involves learning a new thought process, which leads to new perspectives on leadership. If you listen to to the episode, you will learn:
Leaders must be willing to put the ship's performance ahead of their egos.
The command-and-control approach is not the most efficient way to use people's intelligence and skills.
When leaders explore within their thoughts and feelings in order to understand themselves, a transformation can take shape.
Communicating with purpose. Mike took notice that his crew wasn't invested in the ship, so Mike made them aware of their purpose and by doing so, their performance increased.
Taking risk by ensuring your crew knows their limits in which they can operate, encouraging them to think outside the box.
Listen to the episode on Apple Podcasts, Spotify, Google Podcasts, or your favorite podcast platform.
If you want more content like this you can subscribe to my Youtube channel.
——————————————
In case you missed it, I just launched a subscription version of my podcast. Get ad-free listening, early access to new episodes and bonus episodes with the subscription version of the show The Future of Work Plus. To start it will only be available on Apple Podcasts and it will cost $4.99/month or $49.99/year, which is the equivalent to the cost of a cup of coffee.
Fast-track your path to leadership success with The Future of Work Plus. I can't wait for you to hear all the content we have in store!
Comments