Click Here to Subscribe via iTunes
Click Here to Subscribe via RSS Feed (non-iTunes feed)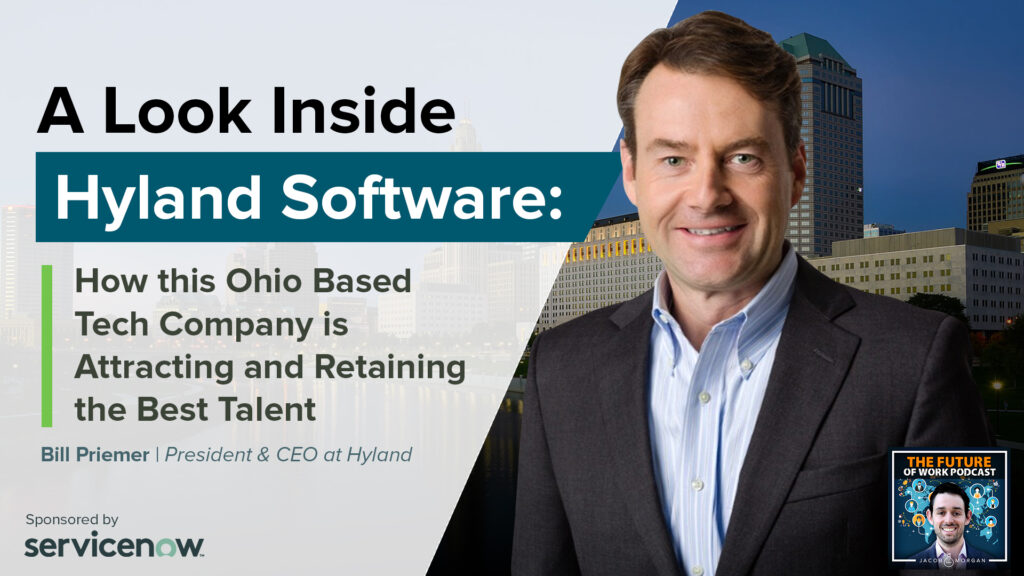 Bill Priemer is the CEO of Hyland Software. Bill joined Hyland in 1997 as Vice President of Marketing. He became Vice President of Sales & Marketing in 2001, Chief Operating Officer in 2005, and CEO in January 2013. Prior to joining Hyland, Bill worked at FedEx Corporation and at AST Research, a personal computer manufacturer.
Hyland Software is the developer of the enterprise content management (ECM) (or content services platform) and process management software suite called OnBase, where they digitize an organization's information. Applications of the suite are used in healthcare, financial institutions, insurance, government, higher education and manufacturing. With 3300 employees, the organization houses about 2000 of them in the headquarters located in Westlake, Ohio. They have other offices located across the U.S. and around the world in Brazil, England, Japan, Australia, and Germany.
Hyland's location in the central U.S has led them to develop their own workforce through relationships with various universities around the state of Ohio. They encourage internships with students in their IT departments. Hyland also runs technology camps with area high schools to encourage young students to develop an interest in software development and consider a career in technology. They will hire about 300 people this calendar year.
Create Amazing Employee Experiences In Your Organization
Get started on our FREE training series!
Get Started →
Hyland is noted to be a great place to work. Bill states that this is intentional. They have focused to train their young employees, so they want to keep the people. "Retention of workforce is really important to us," Bill says.
How do they get the students to be interested in Hyland rather than working someone where else in the area or moving to bigger tech hubs like the Bay Area or NYC?
They really focus on their company culture. They mix major perks with a culture of care and support where people feel like they matter.
They have an open floor plan, casual dress, slides from the 2nd to the 1st floor, a place to get haircut, music lessons on site, a volleyball court, and wellness classes – perks that make work more comfortable and relieve stress, that help people work on personal health. Bill believes that perks are not everything, but they are an important part of showing your people that you care about their wellbeing.
Bill says, "I think an aspect of our culture that I think people really appreciate, we're a very supportive, caring culture. It sounds soft and squishy, but we've got real friendships that form among our people. They really feel part of a community." The fun activities foster this community feeling, but also team-based projects that are there for people to work on together.
A major goal at Hyland is to have a respectful environment where people feel that they are part of what is happening. People have got to be constantly learning and growing. Overall, Hyland is growing at a nice pace that allows for growth opportunities for internal employees.
What You Will Learn In This Episode:
● Innovative programs Hyland has to attract – and keep – the best talent
● Bill's thoughts on future of automation
● The most valuable business lesson Bill has learned
● How Hyland is using employee data and what data they are collecting
● How Hyland competes with organizations in their immediate area and big tech companies in the Bay Area and NYC
Links from the episode:
Twitter: @BillPriemer




This episode of The Future of Work Podcast was made possible by our friends at ServiceNow. Please show your support by checking out the great work they are doing!
Give employees the service experience they deserve because everyone deserves great experiences at work. Eliminate frustration and improve employee satisfaction with a single access point for efficient, personalized HR services. ServiceNow helps you put service at the heart of your business. Start today.
Comments