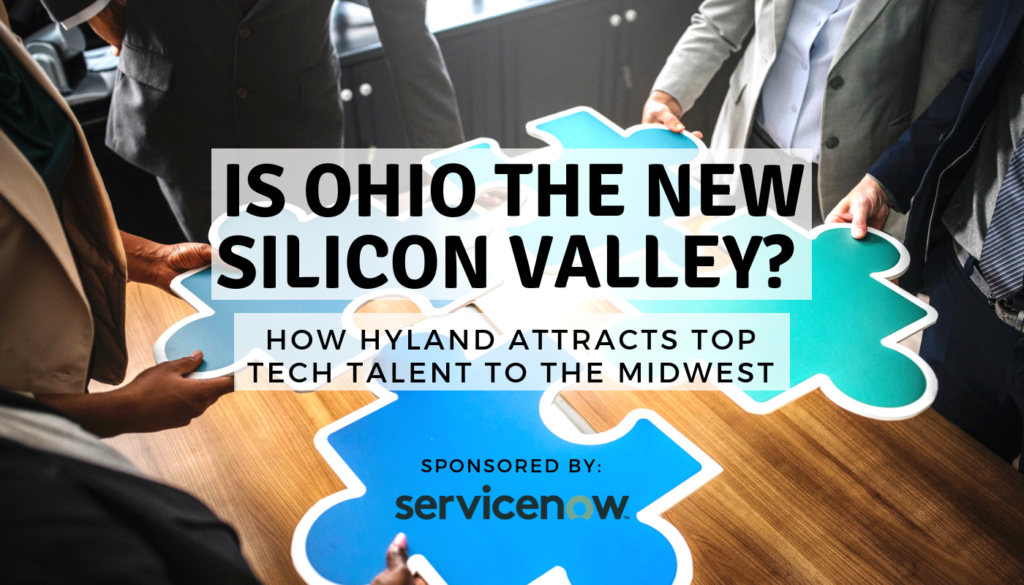 When most people think of tech hubs, Cleveland, Ohio isn't the first place that comes to mind. But enterprise software company Hyland is bucking the trend and drawing top talent away from Silicon Valley and other big cities. According to Hyland CEO Bill Priemer, all it takes is a strong corporate culture and some out-of-the-box thinking.
Being based in Ohio hasn't been a challenge for Hyland to build a strong workforce. Instead of focusing on moving established employees from big cities, Hyland focuses on building relationships with top universities in the region. With an active internship program and strong college relationships, Hyland can attract the top new talent before they move elsewhere. Once those 130-plus interns hit the Hyland campus each summer, they fall in love with the culture and the work and don't want to leave. Hyland even has a presence in local middle and high schools by hosting technology camps and other activities. The purpose is two-fold: encourage young students to get involved in technology and showcase all that Hyland has to offer.
Recruiting straight out of college means most of Hyland's employees are young. That plays a big role in the corporate culture and programs. Hyland managers spend a lot of time mentoring young employees and teaching them how to become strong professionals. By investing time and resources into employees, Hyland aims to create an engaged workforce, which helps improve retention.
Hyland's culture features some great perks, which are definitely part of the appeal: an on-site daycare, open floor plan, exercise classes, slides between floors, haircuts, and more. The perks are something you might expect to see in Silicon Valley, not thousands of miles away.
But Priemer understands that perks aren't the foundation of the culture. They contribute to a comfortable work environment that caters to the wellbeing of employees, but Hyland's culture is so much more. The company focuses on developing its employees in all areas and creating a supportive, caring culture. Instead of trying to push others down to get ahead, employees build relationships and help everyone improve together. Hyland thrives in a respectful and trusting environment where employees are held accountable and know the importance of the roles they play.
Create Amazing Employee Experiences In Your Organization
Get started on our FREE training series!
Get Started →
Another aspect of Hyland's culture that resonates with employees is that it is constantly evolving. Feedback is huge at Hyland, both from customers and between employees and managers. Employees are given numerous opportunities to share their ideas and feedback on how to improve the workplace and culture. Managers and executives aren't afraid to make changes based on the needs and desires of employees.
How do you attract top talent? It's a question tech companies around the country are facing with the current skills shortage. Hyland's approach of recruiting well, building employees, and creating a supportive culture seems to be doing the trick.

This episode of The Future of Work Podcast was made possible by our friends at ServiceNow. Please show your support by checking out the great work they are doing!
Give employees the service experience they deserve because everyone deserves great experiences at work. Eliminate frustration and improve employee satisfaction with a single access point for efficient, personalized HR services. ServiceNow helps you put service at the heart of your business. Start today.
Comments