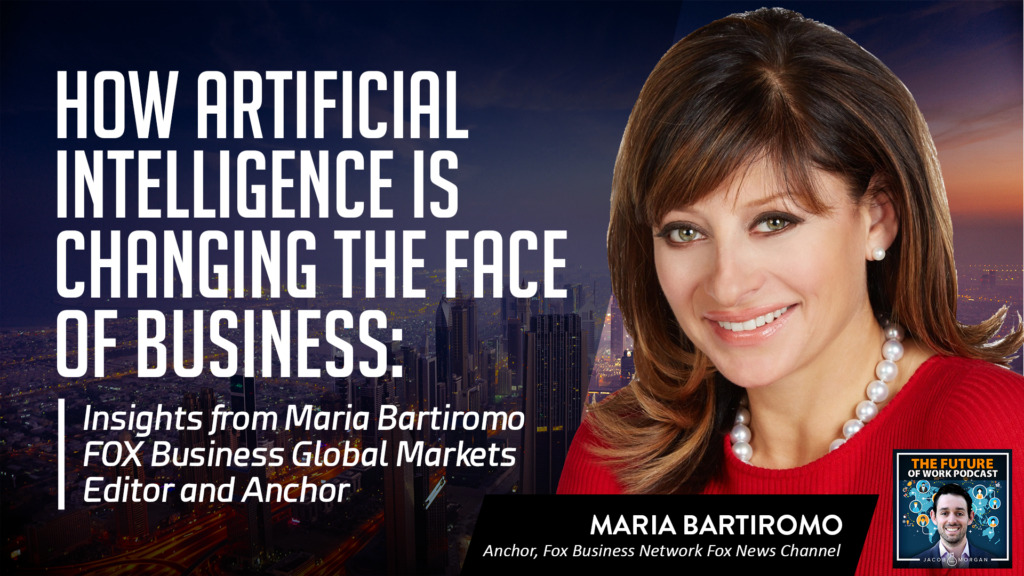 Maria Bartiromo is a FOX Business Global Markets Editor and Anchor. She has been a journalist for 30 years and has worked for CNN, CNBC, and FOX. She has received two Emmys and a Gracie Award and in 2009 the Financial Times named her one of the "50 Faces That Shaped The Decade".
Maria was the first journalist to report live from the floor of the New York Stock Exchange on a daily basis and she was the first female journalist to be inducted into the Cable Hall of Fame Class of 2011. She has written three books, The Weekend That Changed Wall Street, The 10 Laws of Enduring Success, and Use The News: How to Separate the Noise from the Investment Nuggets and Make Money in Any Economy.
She has a one-hour special coming up on September 22, 2019 at 8pm EST, called Artificial Intelligence: The Coming Revolution, which will air on FOX News. The report is based on research Maria has been conducting for over a year on how Artificial Intelligence is changing the face of business and the workplace. She has traveled around and interviewed the leading technologists of the world, people like Marty Schmidt, Provost at MIT, Peter Thiel, founder of Palantir and co-founder of PayPal, Ginni Rometty, Chairman and CEO of IBM and Jim Hackett, Chairman, and CEO of Ford Motors.
Create Amazing Employee Experiences In Your Organization
Get started on our FREE training series!
Get Started →
After all of her in-depth research, what does Maria think will happen to jobs in the next 5-10 years? "I mean this is today in 2019, we have more job openings than we have people. I mean, the labor force is so tight right now with a 51-year low in unemployment, and jobs are plentiful. I think that will only get worse, whereas there won't be enough people for the jobs that we need, and the jobs that we have will be able to be filled by computers. I think longer term, you are going to see a massive displacement in work and in jobs. I think the most important thing that people have to do is, first of all, recognize that machines are getting smarter and smarter, and they will take your job. You need to make sure to arm yourself with the right information and education, where you are savvy with technology because if you're not savvy with technology in the next 10 years, you will be left out."
There's no doubt that AI is becoming smarter and smarter and implementing it into business can save money and time. It can also allow humans to get involved in more creative roles and it will free us up to do the things we actually want to do.
So what can we do as individuals to prepare for the future of AI and technology? Maria says first and foremost we have to enjoy every moment of every day because life is short and it is precious. Secondly, she says that education is key. Things are changing in a rapid pace and it's not going to slow down. We need to be perpetual learners, constantly growing, innovating, dreaming, creating, and learning so that we can keep up in this upcoming world of work.
What You Will Learn In This Episode:
How Maria conducted research for her upcoming piece on Artificial Intelligence
A look at the assumptions she had in her mind before she started working on this report and how they changed in the process
What Maria thinks will happen to jobs in the next 5-10 years
How AI and technology will specifically impact leaders
Who is responsible for upskilling? Organizations or individuals?
What jobs will be in demand in the future
Why some CEOs are worried about AI and some are optimistic
Advice for what individuals should do to prepare for the future of work
Comments