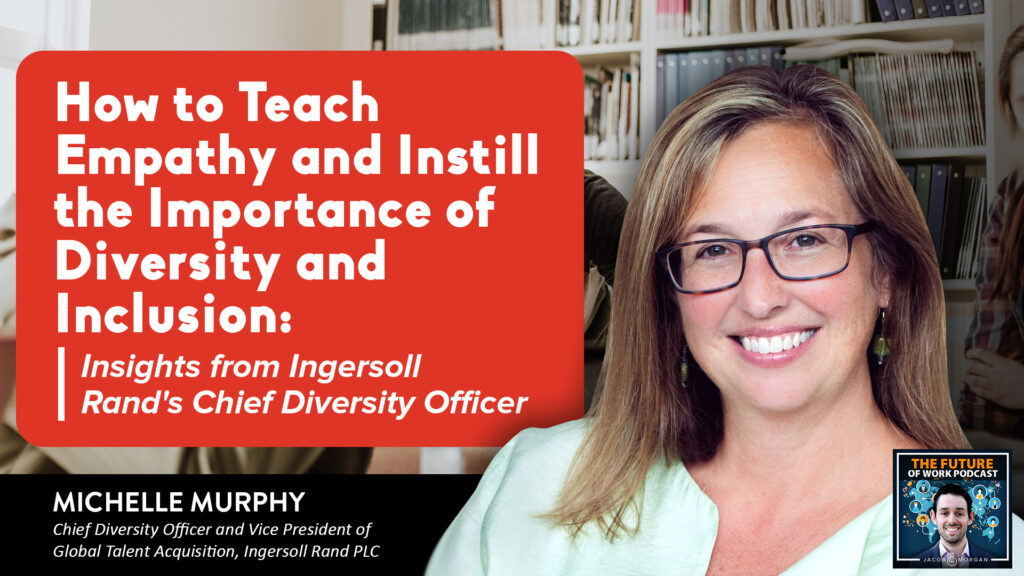 Michelle Murphy is the Chief Diversity Officer and VP of Global Talent Acquisition at Ingersoll Rand, a manufacturing and sustainability company that creates products and services for commercial, industrial and residential customers. Some of their products include heating and air conditioning systems, golf carts, and power tools. They were formed in 1905 and today they have 40,000 employees around the world.
Michelle recently wrote an article, titled Truly Effective Diversity Training Can Be Measured in Goosebumps where she opened up about the moment when she realized the importance of diversity and inclusion inside and outside of the workplace. Her experience ignited a passion for creating a safe place to work inside of Ingersoll Rand as well as encouraging others to do the same in organizations around the world.
Create Amazing Employee Experiences In Your Organization
Get started on our FREE training series!
Get Started →
With the current world of work, where we are all so connected and where we can interact with customers and coworkers from countries all around the world the issue of diversity and inclusion is more important now than ever before. It is crucial for all of us to have empathy and compassion and to be able to see the world through the eyes of others.
Ingersoll Rand has some great programs in place to foster and develop a culture of diversity and inclusion. They include:
Relaunch–a program offering the opportunity to help qualified engineers in the community relaunch their careers after having to step away for a time
Black Leadership Forum–A 1 ½ day immersive and experiential learning forum tailored to bring leaders and high potential black talent together to learn, further a sense of community, and convene a discussion among other companies for strategic initiatives to advance black leadership
Strengthen Economic Mobility–A commitment to achieving a workforce that is reflective of their community populations – a maintaining livable market-competitive wages and progressive benefits; including broadening community access to well-being services including food/nutrition, housing and shelter, transportation, education and climate comfort.
Paradigm for Parity–Ingersoll Rand has pledged to bring gender parity to leadership roles by 2030
The question is, is it possible to teach someone to be empathetic or to focus on diversity and inclusion? Michelle says, "When I think about how do you teach someone, I feel like what we do is we try to create opportunities to offer experiences for people, because I'm not sure that there's a training you could go to, or that you could teach people what it's like to feel certain ways. So, creating experiences where people get to watch others describe their feelings, and share in that, tend to take us a little bit further than I'll call maybe a typical training class. Because what you realize in that setting is, "These are the people I see and work with every day, and I know them pretty well, and I think they're smart people and good people, and I like them, and wow, I had no idea that that's what they were dealing with." Sometimes that acknowledgement is part of what helps create the opportunity for learning, for maybe that person who doesn't demonstrate empathy easily or well. Sometimes creating those experiences where they have those opportunities is the best way to do it."
What You Will Learn In This Episode:
What events shaped Michelle's view of diversity and inclusion
How to teach diversity, inclusion, and empathy
A look at some of the programs in place at Ingersoll Rand that help foster diversity and inclusion
Michelle's view on the current war for talent
How to measure diversity and inclusion
What skills will be needed in the future of work
What Michelle looks for during the interview process
Some of the future challenges we will face when it comes to diversity and inclusion
Comments