Click Here to Subscribe via iTunes
Click Here to Subscribe via RSS Feed (non-iTunes feed)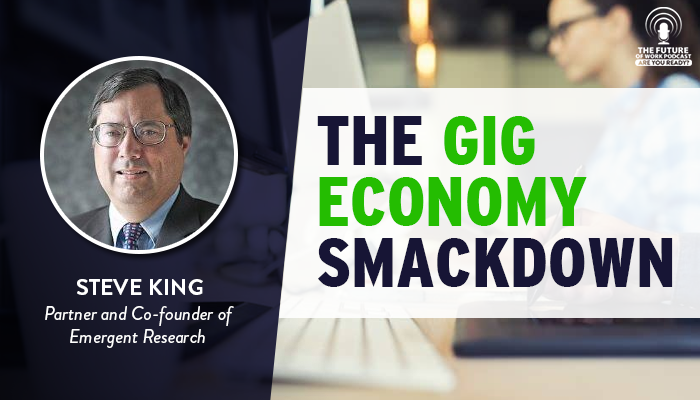 What is in this episode and why you should care:
This week's Future of Work podcast features a conversation with Steve King, a partner at Emergent Research. Steve has extensive consulting, marketing and general management experience with both large and small companies. He has served as vice president of Corporate Marketing for Macromedia, vice president and general manager of Asia Pacific for Lotus Development Corporation and vice president of marketing for Isys Corporation. Steve's current research and consulting is focused on the future of work, the rise of the independent workforce and the impact of Big Data on small businesses.
The gig/freelance/independent worker economy has two levels; those who have this as their full-time employment and those who use it as a way to supplement their income. There are various estimations of the number of people who are gig workers in the U.S.
Some research shows a low number of independent workers – less than a million people to a high number – 75 million people. The 75 million includes people that have taken surveys online and received payment for it or play a game and get paid for it. So, it is critical to define work when discussing the number of freelance workers.
Emergent Research estimates there are 18 million full-time gig workers and another 22 million Americans who are part-time. Here, full-time is defined as working 15 hours or more per week and it is the primary source of income.
Though the percentages of workers vary, there are three things we can take away:
Gig industry is a bigger than any other and just as big as the government segment.
It has clearly been growing over the last decade.
It is permeating every sector of the economy. There are gig workers who are lawyers, doctors and other highly skilled professionals along with the commonly thought of Uber and AirBnB.
One trend in the economy is the shift in workers' perceptions of job security. In 2011, 27% of people believed that independent work was more secure than traditional work. The same question in 2016, found that 47% of workers believe that independent work was more secure.
King's advice for companies when considering the independent worker is to get a grasp on the number of independent workers they have working in their organization. Often in large organizations, they find that 20 -25 % of full-time employees are freelancing and 8% – 10% of part-time employees are independent.
King also says organizations should work to understand where freelancers are playing an important role in their organization. Often they are found in IT or marketing. Then it is important to understand the role they play, how to attract the right talent and then how to train them.
His advice for individuals thinking about the role of freelancing in their own careers? It is important to be prepared. Success in gig work comes from preparation and choice. People who fail in gig work are those who are not prepared. If you are interested in starting with a gig job go with part time and keep your day job.
What you will learn in this episode: 
How many Americans are considered part of the gig economy
King's thoughts on the taking economy
What safety nets can independents look for in the future
What are some gig markets that are less known
What aspects have created the skills gap and how can we fix it
King's advice to individuals and organizations when confronting the gig economy
Are traditional jobs disappearing
My new book, The Employee Experience Advantage (Wiley, March 2017) analyzes over 250 global organizations to understand how to create a place where people genuinely want to show up to work. Subscribe to the newsletter here.
Comments