Click Here to Subscribe via iTunes
Click Here to Subscribe via RSS Feed (non-iTunes feed)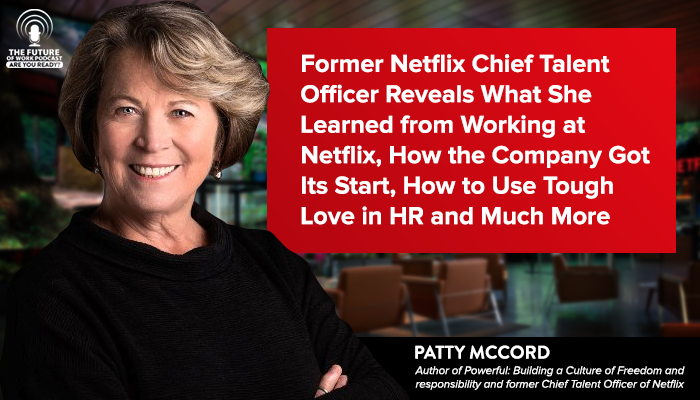 Patty McCord is the author of the book, Powerful: Building a Culture of Freedom and Responsibility. She is also the instructor of an online course on Udemy centered on bringing radical honesty to the workplace and creating company cultures that support innovation and empowerment. Starting in 1998 she spent 14 years at NetFlix, serving as Chief Talent Officer. She has more than 15 years experience in Human Resources with high-tech companies. She was the Director of Human Resources at Pure Atria, now Rational Software Corporation. She served as Human Resources Manager at Borland International. McCord also ran the Corporate Diversity Programs department at Sun Microsystems. Currently, she is frequently in the media with interviews and articles from Harvard Business Review, NPR, Fast Company and The Wall Street Journal. She speaks at CEO Forums, Business schools and for large groups around the world.
When NetFlix began they were small, did not have money for perks. The perks were not something they focused on. Instead, they emphasized good salary, hard problems and good colleagues. Later, they added extras like unlimited maternity leave.
In 2001 1/3 of the Netflix employees were let go – for example, those who were not very good at their jobs, middle management or those who complained about the lack of perks. Shortly after, the price of DVD players dropped and each had a coupon in the box to try Netflix. That led to them being required to work harder with fewer dedicated people. That year they went public and they developed policies and procedures. They expected people to 'act like adults' – giving them more freedom but with high expectations for them.
One of Netflix's most talked about perks was unlimited vacation –it was never designed to be a perk. Initially, employees accrued 26 days a year. Instead, as an experiment, they decided that they wouldn't keep track of the time employees take off but instead will keep track of what they got done. They focus on results and expect employees to act as adults – and so they leave it up to the employees to decide when to take vacation time.
McCord's advice for employees is to figure out what you love to do and where you can do that, solve problems that need to be solved, ask smart questions of management, and take someone you admire to lunch to ask them how they got to their current position.
What You Will Learn In This Episode:
● Things 'to do' and 'not do' in the hiring process
● The use of anonymous surveys
● How to be proactive in HR
● What Netflix looked like in the beginning and how they have evolved
● The thought behind unlimited vacation at Netflix
● The importance of leading by example
Links from the episode:
Build A Culture of Freedom & Responsibility by Patty McCord
Want To Learn More About Human Resources?
Vice President of the People Department at Lyft on a New and Improved HR

Chief Human Resources Officer for Unilever on How to Stay Human