Important Housekeeping
Consider becoming a paid subscriber. As a speaker, author, and futurist I find that it's crucial to stay up to date on the latest trends and strategies and more importantly to share what I learn with you. This is your change to get all of the information from me at a very low cost.
The goal with the Membership is that you become a better leader, inspire the people around you, drive business performance, and create trust. The impact of this is far greater than the monthly cost.
…
Today's 16 min video is with Hubert Joly who is a tour de force in the world of business leadership, best known for his transformative role as the CEO Best Buy. When Hubert and I spoke he told me stories of how his peers would tell him he's crazy for taking the role. Articles were written about Hubert and Best Buy saying that he was in way over his head and that the company was sure to go bankrupt!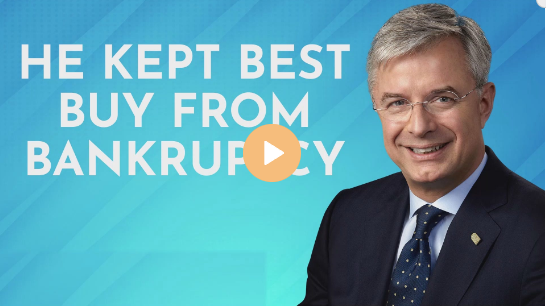 Taking the helm during a tumultuous period for the electronics retailer, Joly orchestrated one of the most notable turnarounds in modern retail history. Under his visionary leadership, Best Buy not only weathered the storm of online competition but also emerged stronger, redefining its value proposition and reinvigorating its brick-and-mortar presence. Joly's approach, which emphasized a people-first strategy and a renewed focus on customer experience, has since become a case study for successful business transformation.
In today's "Leader's Tookit" you will learn:
How to Align with Purpose: Merge personal callings with corporate missions.

How to Prioritize People: Reframe performance reviews to be people-centric.

How to Foster Employee Growth: Introduce individualized coaching and adaptive learning environments.

How to Approach Profit: Focus on serving stakeholders and view profit as a byproduct.

How to Maintain Leader Well-being: Embrace self-care routines for sustained leadership clarity.
Become a paid subscriber today to watch the video and get weekly videos just like this one. There's a free 7-day trial.
To all of the wonderful paid subscribers around the world, thank you so much for your support. I love writing but never find the time to do it. Your support gives me the time, energy, and resources to make time to write!
If you want to watch the video you can become a paid subscriber to Great Leadership here.
…
Have you heard the big news about my new book!?
Leaders are asked to be confident, competent, strong, and visionary. Yet on the other hand, employees also want their leaders to share their challenges, struggles, and mistakes. How can leaders reconcile both of these truths?
Vulnerability for leaders is not the same as it is for everyone else and my over 100 CEO interviews and survey of 14,000 employees proves it! So how can leaders approach vulnerability in the right way that allows them to unlock the potential of others, create trust, and lead through change? Pre-order your copy to find out and email me proof of HARDCOVER purchase to [email protected] and I'll send you 5 exclusive CEO interviews, and invite to a webinar I'm hosting about the book, and the first 3 chapters of the book before it gets released!

Comments