My new book, Leading With Vulnerability is less than 2 months away from officially being out and there's still time to take advantage of the bonuses for people who pre-order a hardcover copy. More on that below.
The premise of the book
We have all heard of vulnerability and we all know what it feels like to be vulnerable. Talking about mistakes, challenges, struggles, and showing emotion in our personal lives have tremendous value. But what about inside of our organizations where we have a very different dynamic? And what if you're a leader of an organization who is responsible for the lives of other people and the financial stability of a team or function?
Is vulnerability for you as a leader really the same as it is for everyone else? The answer is a resounding NO!
Why not and how should leaders approach vulnerability in the right way to drive performance, create trust, lead through change, and unlock the potential of those around them?
To find out, I personally interviewed over 100 CEOs at some of the world's top companies including GE, American Airlines, Edward Jones, Baxter, Northrop Grumman, Hyatt, Dow Chemical, Deloitte, SAP, and many others. I also teamed up with leadership firm DDI to survey 14,000 employees around the world.
The crux of the book is based on what I call, The Vulnerable Leader Equation which you can see below.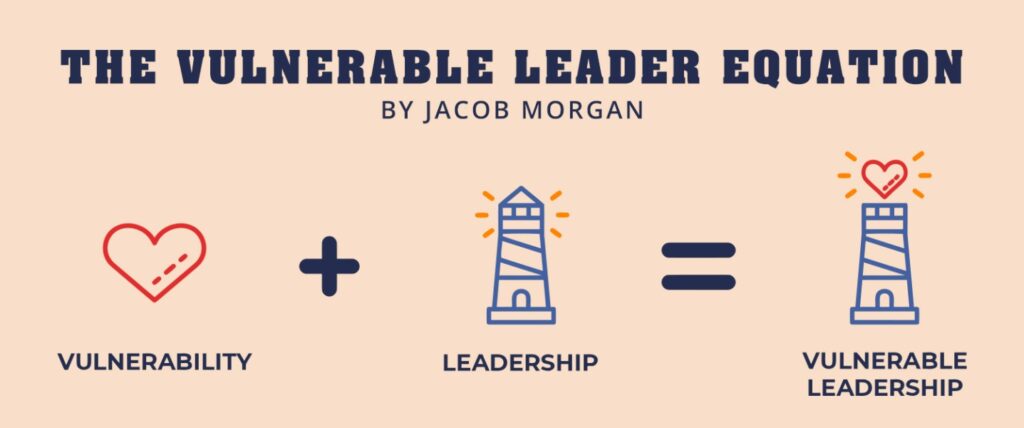 The idea is that we need to combine leadership with vulnerability – competence with connection, in order to be able lead effectively. For example, instead of sharing a mistake (vulnerability), you share the mistake but talk about what you learned and what you are going to do to make sure the mistake doesn't happen again in the future (leadership). The research that I did for the book, shows that the vast majority of leaders around the world DON'T DO THIS. But more on that later
The endorsements
The book has received quite a lot of praise and support over the past few weeks leading up to the launch, here are 6 of the quotes that I received with more to come!





For everyone who PRE-ORDERS A HARDCOVER copy of the book, meaning you place the order BEFORE the book comes out on October 3rd, you will get access to:
The first few chapters of the book before it comes out
5 exclusive CEO interviews (American Airlines, GE, Edward Jones, WW, and BD,
An invite to a webinar I'll be hosting in September where I will be sharing a sneak peak into some of the insights and research from the book.
All you need to do is email me proof of purchase to [email protected].
Pre-Order The Book Here
One of the best ways you can support an author is to pre-order a copy of their book which I hope you will do. Writing this book literally gave me a panic attack!
Pre-Order Leading With Vulnerability.
Comments