Click Here to Subscribe via iTunes
Click Here to Subscribe via RSS Feed (non-iTunes feed)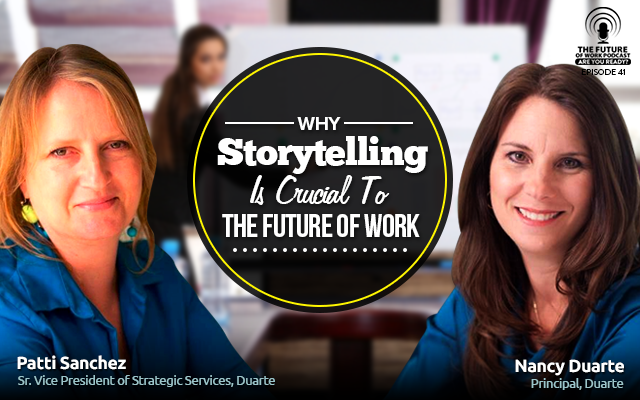 This month's content on the future of work was made possible by my friends at Work Market. Work Market is a freelance management system that brings freelancers and organizations together. As the freelancer economy continues to grow organizations are going to have to think differently about how they service, innovate, and compete in the future of work.
What this episode is about and why you should care
This episode of the Future of Work podcast I speak with Nancy Duarte, Principal, and Patti Sanchez, Senior Vice President of Strategic Services, at Duarte. Duarte is known as "persuasive presentation experts," and those of you who are interested in learning and improving your presentation and speaking skills may be familiar with them. In this podcast, we look at why storytelling is a big part of the future of work. Nancy and Patti have a new book being released early next year about leaders as strong, transformative communicators titled, "The Torchbearer Leader." I had an opportunity to preview their book and found it very fascinating. We talk about some of the concepts in their book that they refer to as "the torchbearer's toolkit" as well technology and globalization, technology in storytelling, and storytelling as personal branding. This is a very thought-provoking podcast that will resonate with everyone. So tune in and listen to Nancy Duarte and Patti Sanchez on why storytelling is crucial to the future of work!
What you will learn in this episode
Background on Nancy Duarte and Patti Sanchez; and an overview of Duarte's services
Duarte's perspective on leadership and changes during the course of her career
A look at Duarte's and Sanchez's new book, "The Torchbearer Leader"
The "torchbearer's toolkit," communication tools for leaders and why they are so important

The importance of speeches
The benefit of stories
Ceremonies and their value in business
Symbols and how to leverage them in business

The framework: Dream. Leap. Fight. Climb. Arrive
Sanchez's insight on these concepts and changes in the workplace
Why storytelling is becoming so important in business
The role of technology in storytelling
Duarte's views on storytelling and globalization
Duarte on storytelling as personal branding
Sanchez on the importance of embracing vulnerability and empathy
Practical tips for leaders, executives and non-executives
Last words
Links from the episode
Comments