Click Here to Subscribe via iTunes
Click Here to Subscribe via RSS Feed (non-iTunes feed)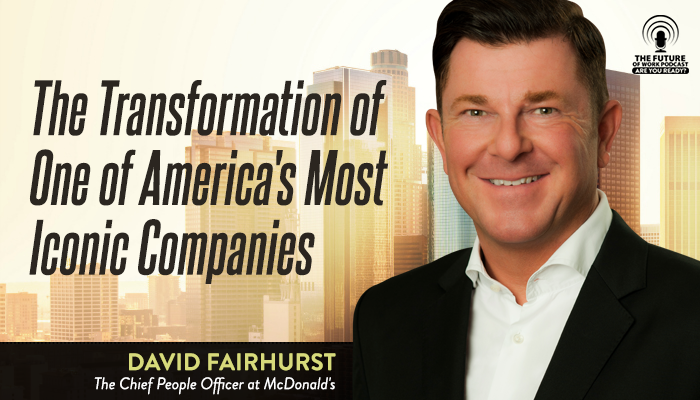 What is in this episode and why you should care:
David Fairhurst is the Chief People Officer at McDonald's. Prior to joining McDonald's in 2005, Fairhurst held senior roles at H J Heinz, SmithKline Beecham and Tesco. For four consecutive years (2008-2011) he was voted the UK's 'Most Influential HR Practitioner' by readers of HR Magazine and in 2012 was awarded the magazine's first ever Lifetime Achievement Award for an HR practitioner.
McDonald's is the world's leading global food service retailer who, including franchisees, employs more than 1.9 million people, in 35,000 locations serving approximately 60 million customers in more than 100 countries each day. More than 80% of McDonald's restaurants worldwide are owned and operated by independent local business men and women.
McDonald's is known for its operational excellence. They see this as a '3-legged stool' made up by the suppliers, the franchisees and the company.
McDonald's is often a first job of many workers. Their focus on training has provided an amazing legacy of alumni employees to the restaurant. Fairhurst talks about the 'workforce cliff'. This is the point where the workforce supply and demand converges – the number of babies born versus deaths. In the US it will occur in 2020. With that in mind, the idea of a multigenerational employee group is even more interesting and practical. He explains that research has shown that in restaurants where there are a large age range of workers, there is a positive culture.
What do companies need from their employees? This may vary across sectors but it is a good question to ask. McDonald's has determined three things that they need from their employees, calling these the '3 C's'.
Competence
Confidence
Commitment
McDonald's also has looked at what employees value in their workplace. They found it to be what they call the '3 F's'.
Family – work/life balance
Flexibility – if family emergencies come up, can the company handle it?
Future – ways can you make me more employable or valuable
The real power in knowing these things is when you can get these to merge. Fusing the needs of the company with the needs of the employees can produce great results.
McDonald's drives change across its global company by looking at 4 things. First is transforming the culture of their system – the customer is the center and then, by definition, also the employee
Secondly, strengthening the talent management process. They want a robust talent pipeline
Thirdly, making sure they have the right leaders with the right capabilities in the right structures to ensure they can meet current and future trend. And lastly, they are constantly seeking to strengthen their access to people.
These are continuous and do not stop in their goal to lead and not follow. The opportunities are endless but when you take a little insight, it can create a massive impact – when you have 1.9 million employees.
Fairhurst's advice for others is to, "Stop worrying about what you do not have control over. Get sleep and pour over what you can do. The differences you make today will get you noticed."
What is in this episode and why you should care:
How David Fairhurst got to this point in his career
What is McDonald's Velocity Growth plan
Why it is important for McDonald's to make a transformation
Challenges McDonald's has had to overcome
The impact of AI and automation on their restaurants
Fairhursts advice to leaders, managers and employees
The role of a multigenerational workforce
What is the 'workforce cliff'?
What Uber and McDonald's have in common
Why is all-day breakfast a big deal for McDonald's?
My new book, The Employee Experience Advantage (Wiley, March 2017) analyzes over 250 global organizations to understand how to create a place where people genuinely want to show up to work. Subscribe to the newsletter here or become a member of the new Facebook Community The Future If… and join the discussion.
Comments