This is a free post, if you aren't a paid subscriber yet, consider joining the many others who are stepping up their leadership game with exclusive weekly leadership hacks, CEO interviews, and in-depth insights written by yours truly. If you are already a subscriber, you are awesome!
Today's episode features none other than John Force, an American NHRA drag racer, 16-time NHRA and 1-time AHRA Funny Car champion driver, and a 22-time champion car owner. Known for his relentless dedication to the sport and his team, John has been instrumental in shaping the landscape of drag racing. His journey from humble beginnings in logging camps and trailer parks to the pinnacle of his sport is a testament to his hard work, resilience, and an unwavering never-give-up attitude.
John's passion for racing was ignited by the thrill of speed and the intricacies of making a car race-ready. This sparked his interest in drag racing and set him on the path to becoming a renowned racer and team owner.
In our conversation, we discuss the following topics:
The importance of team dynamics and the role of innovation in drag racing
The mindset shift required for individuals to emerge as leaders in a high-stakes sport
The significance of resilience and dedication in fostering a culture of success
Why staying in your comfort zone is a career killer in the world of racing
The danger of letting ego get in the way of team success
John's continued commitment to competing professionally, even at the age of 74
This episode is not just for racing enthusiasts but for anyone striving to achieve success in their chosen field. So buckle up and get ready for an inspiring ride with John Force!
…
Leaders are asked to be confident, competent, strong, and visionary. Yet on the other hand, employees also want their leaders to share their challenges, struggles, and mistakes. How can leaders reconcile both of these truths?
Vulnerability for leaders is not the same as it is for everyone else and my over 100 CEO interviews and survey of 14,000 employees proves it! So how can leaders approach vulnerability in the right way that allows them to unlock the potential of others, create trust, and lead through change? Pre-order your copy to find out and email me proof of HARDCOVER purchase to [email protected] and I'll send you 5 exclusive CEO interviews, and invite to a webinar I'm hosting about the book, and the first 3 chapters of the book before it gets released!

…
Get the rest of the article and transcript and start your day with the worlds top leaders, thinkers, and authors by subscribing to Great Leadership On Substack.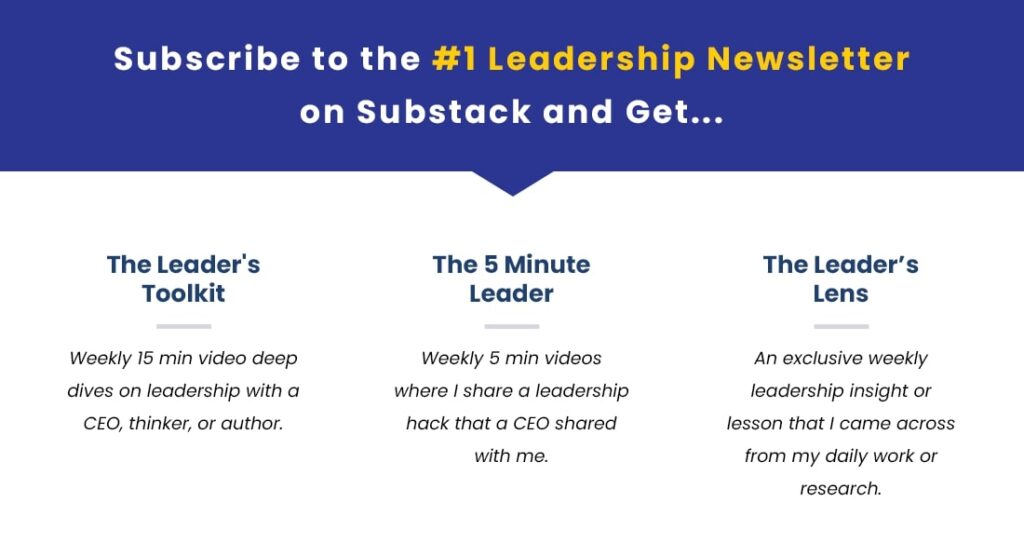 Comments