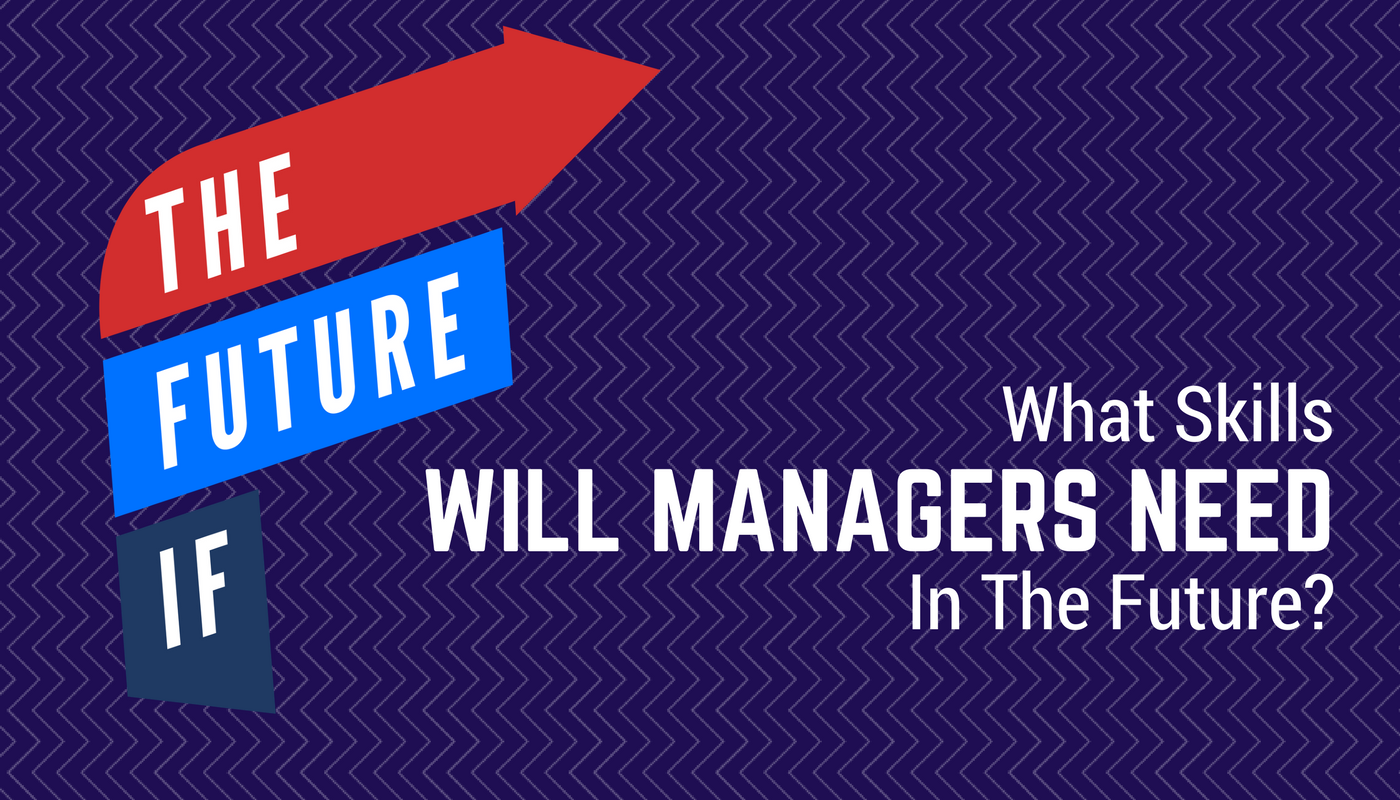 "The Future If," is a global community of business leaders, authors and futurists who explore what our future can look like IF certain technologies, ideas, approaches and trends actually happen. The community looks at everything from AI and automation to leadership and management practices to augmented reality and virtual reality, the 4th industrial revolution and everything in between. Each we explore a new topic and this week we looked at whether we should Fear or Embrace AI, this was the discussion starter we used! Visit TheFutureIf.com to learn more or to request to join the community.
What do you think of when you hear the word "manager"? In the traditional way of working, it was someone who was in charge of others and often acted like a slavedriver of sorts to make sure the job got done. But that's not the case now, and it definitely won't be the case in the future. As employees demand more flexibility and hierarchies disappear, the role of the manager is changing, and managers need to adopt new skills to keep up.
Our community this week discussed the skills managers will need in the future. There were a lot of thoughts about what managers will need to do to stay relevant, and a lot of them related to how managers interact with employees.
Senior Marketing Manager, Capability & Culture Vicky Sparey led the discussion and said it all comes down to the culture of the organization. Executives who are focused on building high-performing teams and working alongside their employees will set the example that will flow down to mangers and permeate through the entire company. The best cultures will be ones that don't see positions in the traditional pyramid shape but that view managers as people who drive results and inspire people. Instead of just telling people what to do, new managers will need to focus on building up others and providing personalized leadership that makes them approachable. Think of it as more like a coach and less like a referee.
Product Growth Leader Livia Bicalho pointed out that the top skill managers need is to care about people. Managers need to be great connectors to bring together people from different backgrounds and areas to drive collaboration and build successful teams. Being able to facilitate teamwork becomes even more important in diverse workforces, as COO Kathy Krumpe pointed out. As more employees move to unique work schedules and different types of employment, such as freelancing or telecommuting, bringing people together becomes even more challenging, and a manger's ability to lead and direct becomes more visible and important.
Emotional intelligence is a buzzword that gets thrown around a lot when talking about the new wave of managers, and it was a common thread in our discussion. Emotionally intelligent managers are self-aware and know how to improve themselves, which tends to give them greater perspective and make them better leaders. Many companies are already moving to the new method of managing and are updating their training to reflect the new skills required for the position. Companies like Glassdoor and Cisco even encourage their managers to get to know themselves before they start to know their employees. As Learning and Development Manager Alison Yarwood pointed out, having strong emotional intelligence can help managers guide collaboration that is tolerant and tension-free.
Managers will also know how to build an effective work environment. As many organizations move towards more flexibility for employees, managers need to know how to drive results and growth in the modern results-only work environment. It isn't enough for managers just to show up and make sure employees are doing their jobs—they need to be involved in the work and create an environment where results and innovation can blossom.
So what will happen to managers who can't adapt to the new way of working? Most people in our discussion agreed that those managers will be forced out of companies and possibly replaced by new millennial managers. For most people, that was a good consequence—if managers can't keep up with the changing workplace, then they should be replaced with new managers with the right skills and fresh perspectives.
Managers play a vital role in an organization's structure, and most people in our discussion agreed that isn't about to change. However, a manager's ability to adapt and work with their employees will be put on display in the future and could lead to their success or failure if not done properly.
My new book, The Employee Experience Advantage (Wiley, March 2017) analyzes over 250 global organizations to understand how to create a place where people genuinely want to show up to work. Subscribe to the newsletter here or become a member of the new Facebook Community The Future If… and join the discussion.