Click Here to Subscribe via iTunes
Click Here to Subscribe via RSS Feed (non-iTunes feed)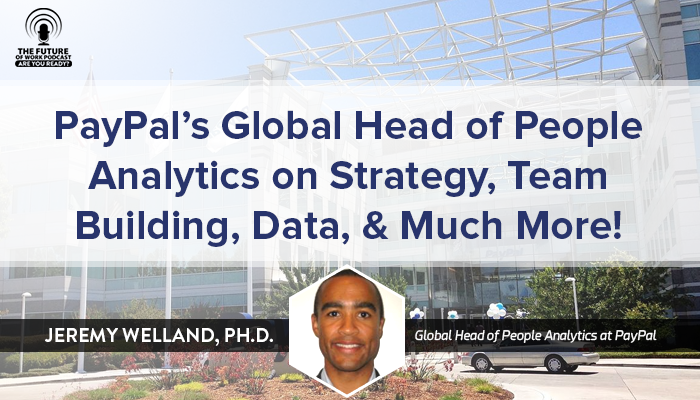 Jeremy Welland, PhD is the Global Head of People Analytics at PayPal Holdings, Inc. PayPal is an American company with 18,000 employees, operating a worldwide online payments system that supports online money transfers and serves as an electronic alternative to traditional paper methods like checks and money orders. PayPal is one of the world's largest Internet payment companies.
He also serves as a faculty member in the School of Engineering and Computer Science at the University of the Pacific. Prior to PayPal, Welland was the Director of People Analytics at Pandora Media, Inc. He earned his master's and doctoral degrees from the University of Michigan.
One of the 'hot topics' they've been working on at PayPal is the subject of diversity and inclusion. One area in particular was focusing on pay parity for women. They have been successful in this and will work to maintain it.
To find the truth of what drives people, why people leave, etc., they often will start with asking managers what they believe.
They find the results can fall into 3 responses:
1. Hypothesis confirmation – what the manager thought was correct
2. Myth busting – find that it is not as strong as believed or there is no relationship at all
3. A 'purple swan' -finding unexpected surprises – it wasn't on anyone's radar at all
One thing they learned about employees at PayPal is termed the 'evangelist effect'. Looking in detail at employee responses and the surprising correlation between people that mark 'satisfied' and then leave the company versus those that marked 'neutral' or 'very satisfied'.
Welland's advice for others is to make friends with your CFO, pick a group or one early adopter who can help champion your product, and make friends with other departments
What you will learn in this episode:
● PayPal's People Analytic team structure
● How People Analytics is being used at PayPal
● Strong AI versus Weak AI
● Thoughts on how AI will augment future work
● What the work environment is like at PayPal
Link from the episode:
Want To Hear More Podcasts On Data and People Analytics?

People Analytics: The Promise, The Perils, and the Possibilities with President and CEO of Humanyze Ben Waber

Metrics And HR: How HR Works With Enterprise Analytics To Drive Strategy And Provide Value To Business Partners

Comments