Click Here to Subscribe via iTunes
Click Here to Subscribe via RSS Feed (non-iTunes feed)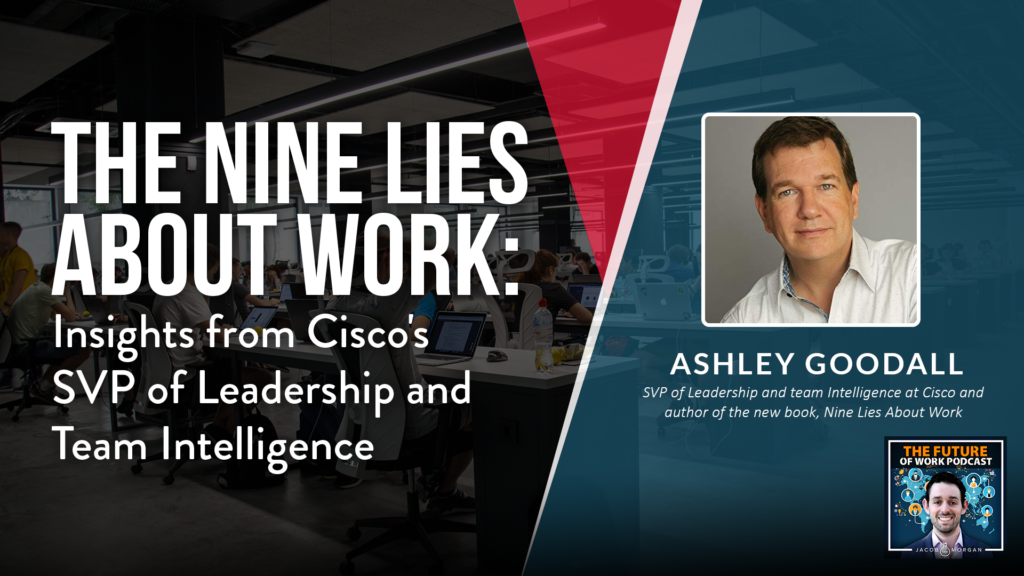 Ashley Goodall is the SVP of Leadership and Team Intelligence at Cisco and the author of the new book, Nine Lies About Work: A Freethinking Leader's Guide to the Real World. Prior to Cisco, Ashley spent 14 years at Deloitte where he worked in several roles, including Director and Chief Learning Officer, Leadership Development.
When conducting research for the book, Ashley and co-author Marcus Buckingham found that a lot of the "basic truths" people think they know about work are actually not true at all. These nine lies that they found are based on data and evidence from the real world of work, it's not just an opinion or a philosophy.
These nine lies found in the world of work are:
1. People care which company they work for
2. The best plan wins
3. The best organizations cascade goals
4. People are well rounded
5. People need feedback
6. People can reliably rate other people
7. People have potential
8. Work life balance matters most
9. Leadership is a thing
If you are like me, reading through the list you may be surprised to see a lot of statements that you have held as truth for many years, even decades. But as Ashley went through and explained the reasoning behind why these statements are lies it made complete sense.
Create Amazing Employee Experiences In Your Organization
Get started on our FREE training series!
Get Started →
Taking number one as an example, people care which company they work for, it may seem like an obvious statement. But the truth is people don't care what company they work for, they care about the team they work with. The experience inside of a company varies from team to team.
Ashley says, "We discovered at Cisco, I mean I think this data point is the one that sort of puts the whole thing into a fairly sharp focus, if you go from one of our 50% most engaged teams to one of our 50% least engaged teams, in other words, you pass the sort of median point of team engagement in a downward direction, your chance of voluntarily resigning from Cisco goes up by 45%.That's an enormous, enormous, enormous difference. And the point is, of course, as you go from a great team to a horrible team, you're still working for Cisco, so if it were true that you cared which company you worked for, that hasn't changed. But clearly, every time what trumps this idea of company is team."
Another example is number eight, work life balance matters most. We hear a lot about work life balance, but Ashley says it is an unattainable idea and the phrasing is deceiving. Saying work life balance implies that everything about work is bad and everything about life is good. And trying to keep a perfect balance between the two is fragile and stressful.
"More useful is the idea that whether it's in work or in life, there are certain activities that fill us up, that rejuvenate us, that express who we are as people, where we want to make our biggest mark on the world. Activities that replenish us, activities that express, if you like, our love for the world around us, and that it's not really work life balance that we should be after, therefore, it is love loathe imbalance. We want to intelligently work throughout our lives to create more of the activities that we love, and fewer of the activities we loathe, whether that's at work, our outside work."
So what is the purpose of the book and redefining the workplace truths? These lies cause dysfunction and frustration inside of organizations and they keep leaders from achieving their true potential. By identifying and addressing these lies in the workplace our organizations can function more effectively and our leaders can be more successful.
What You Will Learn In This Episode:

●Ashley's role inside Cisco
●The nine lies about work that we generally accept as truth
●The data and evidence Ashley and Marcus used for the book
●The 3 problems with the annual performance reviews and what Cisco is doing instead
●What makes a good team leader
Get my free training series to create powerful Employee Experiences in your organization.
Comments