Click Here to Subscribe via iTunes
Click Here to Subscribe via RSS Feed (non-iTunes feed)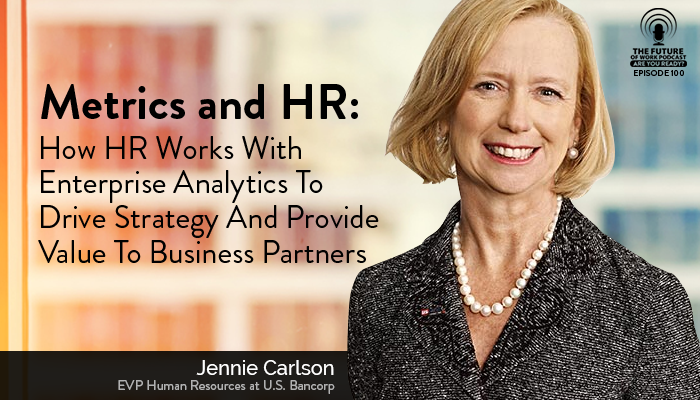 What is in this episode and what you should care:
Jennie Carlson is the Executive and Chief Human Resource officer at US Bancorp.  They are the 5th largest bank in the US, with 67,000 employees.  Jennie has been with the company for 15 years and able to provide valuable insight in this week's podcast. The HR department has a pyramid of shared services.  The normal HR functions such as payroll, employee relations, and recruiting are along the baseline. As the pyramid climbs higher, talent development, advancement opportunities are the focus.  At the very top, the message of how US Bancorp can use people and talent to drive the strategy of the organization cascades down and drives the actions of the entire department.  Other topics this can include are organizational design and fostering a great employee experience to lead to a great customer experience.
The role of HR has evolved over the past few years.  The department has seen a shift from an 'order taker' mode to become strategic partners that help set the corporate strategy and the organizational design. Employee experience is a huge focal point.  This can include technology, flexible work arrangements, and employee engagement.  Jennie shares how US Bancorp uses engagement surveys from their employees, which they use as a marker for continuous improvement.
Traditional HR Metrics include employee engagement, as well as, other topics such as retention and exit interviews. Moving forward, US Bancorp is moving their analytics team from HR to strategy.  This allows data to be pulled from the same sources, but it is being looked at differently, from the lens of the customer analytics department.  Jennie believes that analytics should be deciphered in the best suited department.  Companies that have larger marketing and customer analytics departments may be able to provide newer insights than smaller HR departments can.  This can allow cornerstones of data, like the employee survey, to be drilled down as much as possible.  Another area is making sure they are keeping in line with their ethical culture.  The future of analytics also allows for characteristic and trend tracking in many employees.  Keeping ahead of trends allows companies to gain a full picture of what is going on inside their company, allowing them to continuously improve to create a better organization.
What you will learn in this episode:
How HR Is Leveraging Analytics
What Type of Data is Collected
Analytics for Hiring
Skills Needed to Build an Analytics Function
How HR Can Work With IT
How US Bancorp Provides Value to Their Business Partners
Link From The Episode:
This week's podcast is brought to you by Targus. Targus is an advocate for flexible working and its productivity-boosting potential. The global brand's cutting-edge, quality-made carrying cases, tech accessories, and peripherals enable mobile professionals to perform at their best anytime, anywhere and shape flexible and remote working spaces. To learn more about IT best practices for flexible work, visit http://response.targus.com/homeofficeequip.
Comments