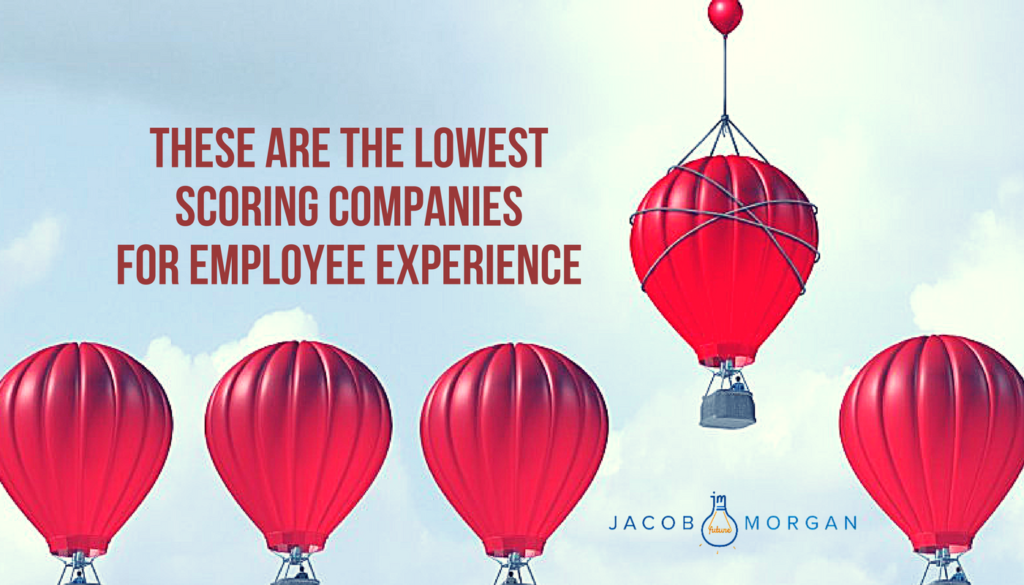 For the past few years I've been studying employee experience and with the help of Cisco and Lever, embarked on a research project to study and analyze over 250 organizations around the world including the Fortune 100 and the Fortune 100 Best Places to Work. The findings of this research are detailed in my new book called, The Employee Experience Advantage. I recently shared the top companies for employee experience, today I want to share the lowest scoring ones.
If you're new to the concept of employee experience it's been emerging because organizations around the world have been investing in employee engagement for decades yet despite the increase in investment, scores remain terribly low. Employee engagement has become this approach of investing in short term perks without changing the core business practices of the organization aka distracting employees from the sad realities of their work lives. Employee experience is all about changing the actual system, or the core workplace practices of the organization, redesigning work around the people who work there.
Every single employee experience at every company around the world, is a combination of three environments: culture (the side effects of working for your organization), technology (the tools employees use to get their jobs done), and physical space (the actual spaces in which employees work). In total there were 17 attributes that I looked at which fell into these environments. I created several categories of organizations, the Experiential were those that scores the highest and the ones listed below are inExperienced; that is they scored lowest on the Employee Experience Index.
Aetna
Glaxosmithkline
Robert W. Baird
Walmart
Under Armour
Phillips 66
PepsiCo
Universal Studios
Chesapeake Energy
Swiss Re
Baptist Health South Florida
Burns & McDonnell
Whole Foods Market
Encompass Home Health and Hospice
Perkins Cole
TJX
Gilbane
Anthem
Halliburton
CHG Healthcare Services
Caterpillar
The Container Store
Balfour Beatty Construction
Honeywell
Tesla
Ingram Micro
AmerisourceBergen
Mercedes Benz USA
Wellstar Health System
SAS
CHS
Massachusetts Mutual Life Insurance
Sysco
INTL FCStone
EOG Resources
Ari
Mondelez International
Nugget Market
CVS Health
Arnold & Porter
AIG
Archer Daniels Midland
General Dynamics
W. L. Gore & Associates
Gilead Sciences
Berkshire Hathaway
David Weekley Homes
World Fuel Services
Sears
From the 252 companies I looked at 50 of them (20%) fell into this inExperienced category and many of them are well known and respected brands. I've had discussions with many of these organizations who I know are in the process of making considerable investments in employee experience. The fact that they scored so low doesn't mean they are terrible organizations or are not innovative. After all, Tesla, which many consider to be one of the world's most innovative companies, is ranked as inExperienced. I don't want to disparage these organizations, I want to encourage them to do better.
There is tremendous opportunity for these, and other organizations around the world, to invest in culture, technology, and physical space to create a place where people want, not need to show up to work. I firmly believe that those who make these investments will be able to outlast the competition and thrive in the future of work.
The full list of rankings are available online as is the assessment which you can use to rank your own organization. We all deserve to work for an organization that invests in employee experience.
My new book, The Employee Experience Advantage (Wiley, March 2017) analyzes over 250 global organizations to understand how to create a place where people genuinely want to show up to work. Subscribe to the newsletter here or become a member of the new Facebook Community The Future If… and join the discussion.