Click Here to Subscribe via iTunes
Click Here to Subscribe via RSS Feed (non-iTunes feed)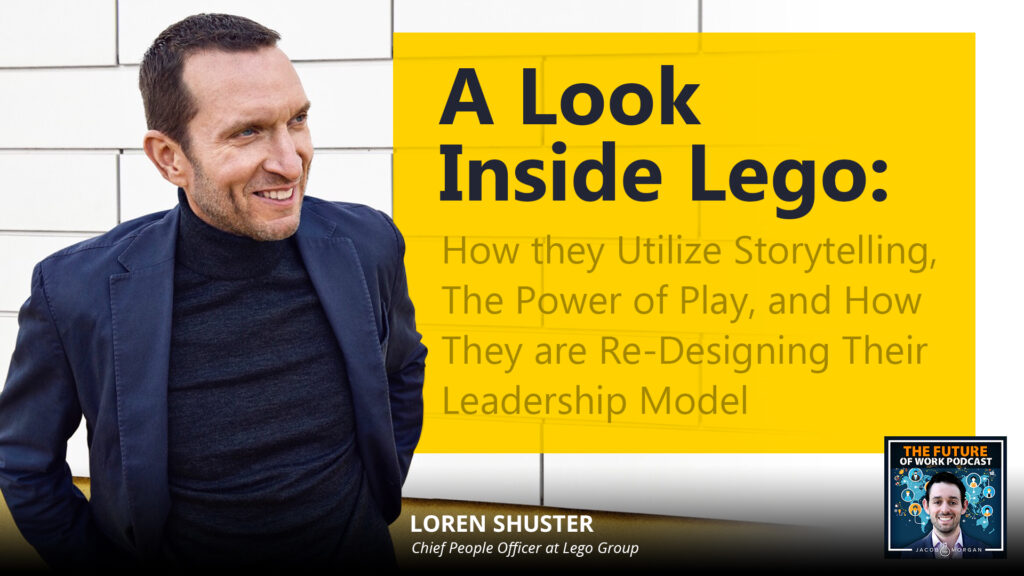 Loren Shuster is the Chief People Officer at the Lego Group. He joined the LEGO Group in 2014 from a position with Google as Managing Director of Brand Solutions, Asia Pacific. Loren was also previously with Nokia for 10 years where he worked across Asia and Africa before assuming a global marketing role as Senior Vice President of Go-to-Market in Helsinki. In his current role, he is responsible for The LEGO Group's People Operations and Development. As Chief People Officer, he is mainly responsible for People Strategy, Culture, Leadership Development, Talent Acquisition & Retention, and Reward & Recognition.
Loren's focus is on building the right culture, leadership and talent platform so that LEGO can reach more children around the world and 'inspire and develop the builders of tomorrow'.
Loren holds an MBA and Masters in Organizational Psychology from INSEAD.
The Lego Group has been around for 86 years; with 18,000 employees, they are a privately-held enterprise, still held and owned by the Christiansen family, and are on to the fourth generation owner. They bring joy to children around the world by creating playful learning experiences that are not only fun, but also develop important skills, and ultimately deliver that playful learning experience.
What is it like to work at Lego? Loren shares, "Foremost it's a hell of a lot of fun, which I think is not hard to imagine". Their offices are colorful and bright with multiple working areas. They do not have offices or assigned seating, so each day can be different depending on what someone needs to get done.
As you can imagine, there are legos everywhere and employees are encouraged to build and create throughout the day.
Create Amazing Employee Experiences In Your Organization
Get started on our FREE training series!
Get Started →
Lego also has employees called play agents who are trained to facilitate play experiences for the other employees. One example of this is what they call Play Day. Every year every single one of the 18,000 employees at Lego enjoy a day off where they play together and have fun. "We strongly believe that adding a bit of play into the work day can help nurture our innate curiosity and desire to learn, which comes naturally to children".
Lego may be an 86 year old company, but they are not staying static. One area they are experimenting in is People Analytics. They recently hired a new head for the People Analytics function as they believe analytics can help deliver more value to the organization. They want to ensure that they have a diverse and inclusive workforce and they want to make sure that they are matching the right individual to the right project.
Lego is a very mission focused company and all of their employees are passionate about what they do, which is to help children have fun, creative and engaging play experiences. Lego recently published a report called The Lego Play Well Report, and they found that "over 80% of children claimed to learn more and learn better when there are some play involved".
Lego believes that play is essential for the wellbeing and happiness, not just of children, but for parents and families as well.
What You Will Learn In This Episode:
●How Lego implements storytelling in their recruitment and training processes
●How they are redesigning their leadership models and why
●Why including employees in company decisions is important
●What it's like to work at Lego
●The job description of a Play Agent
●Lego's four promises–what they are and how they affect the Lego culture
Contact:

Loren Shuster on LinkedIn
Comments