UNLOCK YOUR
GREATEST SUPERPOWER
TO TRANSFORM YOURSELF, YOUR TEAM,
AND YOUR ORGANIZATION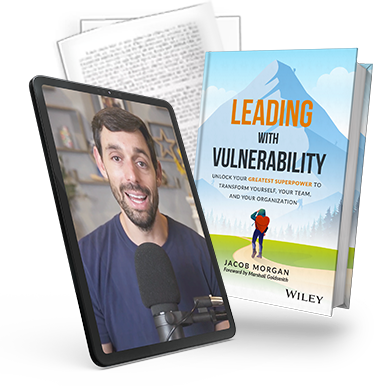 Hardcover Pre-Order Bonuses
Simple send confirmation of your order to [email protected] If you are interested in bulk sales please email me and we can work something out.
How do some of the world's top leaders unlock the potential of others, create trust, and lead through change?
Jacob started out with one basic question; is vulnerability the same for leaders as it is for everyone else? It turns out it's not. On August 20, 1991 Hollis Harris, the CEO of struggling Continental Airlines told his 42,000 employees to pray for the future of the company. The next day he was fired. What Hollis did was vulnerable, but there was no leadership.
While vulnerability cripples some leaders, others are able to tap into it and use it as a superpower. Vulnerability alone makes leaders seem incompetent whereas competence alone makes it hard for leaders to connect with their people. The key is they need both, vulnerability and high levels of competence – what Jacob calls The Vulnerable Leader Equation.
Based on over 100 CEO interviews and a survey of nearly 14,000 employees, renowned leadership thought leader and futurist Jacob Morgan shares candid stories and never before seen research which shows how leaders can tap into vulnerability to transform themselves, their teams, and their organizations.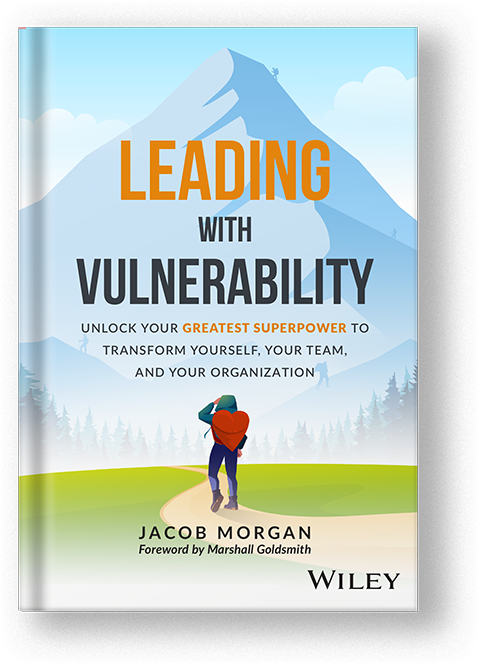 This book will show you why it's so crucial to lead with vulnerability and more importantly, how to do it well.
Leading With Vulnerability is not just a book to share with your leaders and your co- workers, it's a profound invitation to a paradigm-shifting adventure. Nothing like this has written before and after reading it, you'll never look at leadership the same way again.
"Jacob takes a wonderfully thorough look at one of the most important – and lacking qualities in leaders. And he does so with a raw and honest approach that makes his point all the more powerful(!)"
Best-selling Author of The Five Dysfunctions of Team and The Six Types of Working Genius

"Leading with vulnerability is a superpower that many leaders struggle with. It creates human connection, trust, and unlocks the potential of those around you. This excellent book teaches leaders how to do just that. Filled with stories and research this is a must read for any leader!"
Chief Executive Officer,
Panera Bread & Panera Brands

"This book offers many wonderful examples and insights for how leaders can put the power of vulnerability to work. You'll never think about leadership the same way again."
World's #1 Strategy Thinker,
Professor, & Author
Based on over 100 CEO interviews and a survey of 14,000 employees, this book will teach you how to unlock the potential of those around you, create trust, lead through change, and drive business performance.
Leading with vulnerability is the most powerful thing that any current or aspiring leader can do. With the right blueprint you can transform yourself, your team, and your organization.
Jacob is a professionally trained futurist, keynote speaker, and the international best-selling author of 5 books. His passion and mission is to create great leaders, engaged employees, and future-ready organizations. He is also the host of Great Leadership With Jacob Morgan, one of the most popular leadership podcasts. His work has been endorsed by the CEOs of: Unilever, Cisco, Mastercard, Nestle, Best Buy, SAP, KPMG, T-Mobile, Audi, Kaiser Permanente, and many others. Jacob has also contributed to and been cited in publications such as Cosmopolitan, The Wall Street Journal, NPR, CNN, Glamour, the MIT Sloan Management Review, USA Today, and The Harvard Business Review. Jacob lives in Los Angeles, California with his amazing wife Blake, their two kids, and their two Yorkie rescue dogs. You can learn more about Jacob and get access to his content by visiting TheFutureOrganization.com

"This is a well-researched, compelling book about something we spend far too little time thinking about: Being human. It works."
Best-selling Author of The Five Dysfunctions of Team and The Six Types of Working Genius

"Vulnerability, in today's complex, uncertain world is simply a fact. Good leaders don't shy away from, but instead acknowledge and embrace, this reality. Backed by a study of 100 CEOs and a survey of 14,000 employees, Jacob has put together an invaluable resource to help leaders navigate vulnerability to achieve more, build trust, and drive performance."
Professor, Harvard Business School; Author, Right Kind of Wrong: The Science of Failing Well

"This book is a game-changer for current and aspiring leaders. Jacob provides readers with a treasure trove of insights on how to connect with team members, unlock potential, and drive business performance. I wish I had this book when I was entering the business world!"
Former CEO, The Home Depot

Jacob answers the most pressing questions on the future of leadership"

Paul Polman
Former CEO of Unilver
Jacob's perspectives into the trends of the future workforce are insightful and spot on!"

Francine Katsoudas
Executive VP, Chief People, Policy & Purpose Officer at Cisco
Weekly insights, trends, and discoveries based on my daily work with the world's top leaders.