Click Here to Subscribe via iTunes
Click Here to Subscribe via RSS Feed (non-iTunes feed)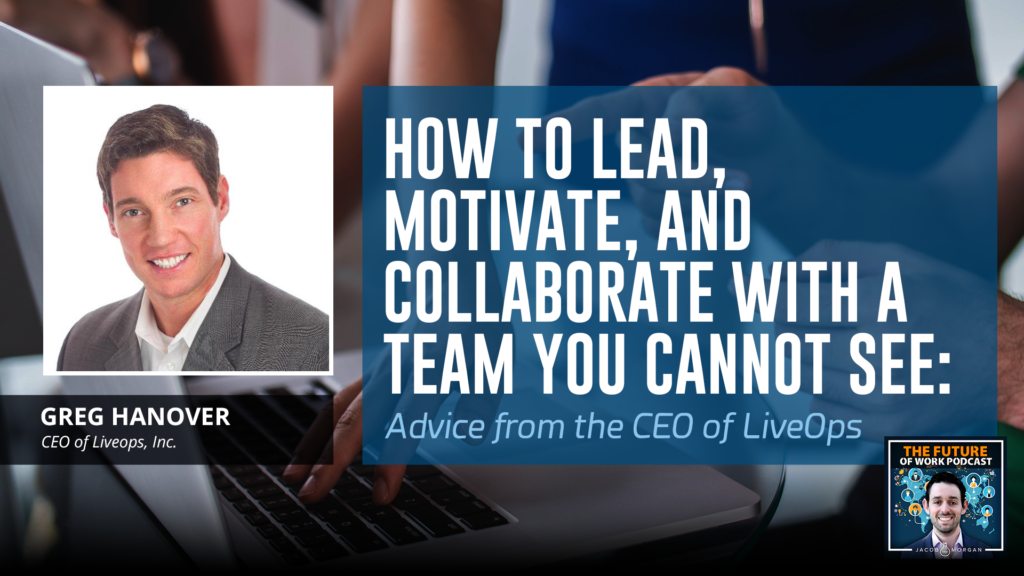 Greg Hanover is the CEO of LiveOps, a virtual call center company that provides services for a wide variety of industries including healthcare, retail, travel, hospitality, and insurance. LiveOps has a little over 200 full-time employees and they have 14,000 independent contractors who work virtually from home. Having a team of virtual agents has allowed LiveOps to be more cost effective, flexible, and innovative than a traditional brick and mortar call center.
Having flexible and remote work options is becoming more and more valuable to employees, no matter what industry they are in. But a lot of executives shy away from giving these options because of the concerns that come with leading a virtual workforce. How do you know if they are actually working? How do you measure productivity? How do you create a cohesive corporate culture when not everyone is in the same building everyday?
Greg says it ultimately comes down to your communication strategy. Having effective and consistent communication is critical when it comes to working with a virtual team. The great thing is there are so many tools and platforms available now that leaders can take advantage of. LiveOps has built their own collaboration tool called LiveOps Nation which allows agents to communicate with one another, share tips and secrets, find company wide news, etc…It allows the leaders to disseminate information to the whole team, very quickly.
It is also important to set expectations early when leading a virtual team. Starting at the interview, the potential employee should know what attributes you are looking for in a team member, what is expected of them, and what their responsibilities will be. "We all know there are some people who can be more successful than others in a virtual environment", Greg says. Working virtually requires self-motivation, a certain amount of drive, an entrepreneurial spirit and self-control.
Create Amazing Employee Experiences In Your Organization
Get started on our FREE training series!
Get Started →
"One of the big things or processes we have in place is every agent signs what we call a statement of work. And we make it clear, so whether you're supporting a large retail customer or one of our insurance customers, or healthcare customers, we're going to list out what the requirements are to support that customer. So we may have certain requirements around number of hours worked each week or certain quality metrics that have to be met to stay active on a program. We'll clearly outline in that statement of work with the agent what the requirements are to support that end customer. There are requirements. It's not a free for all model."
For organizations or leaders who are looking to test out a remote workforce or a few remote positions, Greg's advice is to "understand what does success look like in that position. And then make sure that you've clearly articulated that to the folks that you're going to place in a remote environment". It is important to lay out the requirements, expectations, job description, etc… ahead of time and use that as the measure of success.
Greg suggests starting small, maybe you give employees the option to work from home one day a week or you give them more flexibility in their schedules. But don't try to run before you crawl. It may not be the best idea to start hiring a whole new team of remote workers if you've never managed this type of a team before. Start small and test things out, put the right tools in place, and set up guidelines and expectations up front.
What You Will Learn In This Episode:
●How to lead a virtual team
●What tools LiveOps uses to collaborate and communicate
●What it is like to work at LiveOps
●How they stay competitive in the Bay Area
●How they train, upskill, and motivate a team they cannot see
●How they keep the team aspect alive while everyone is remote
●How to change the mindset of leaders so they can see the benefits and possibilities of remote working
Links From The Episode:
LiveOps
Greg Hanover on LinkedIn
Comments