Click Here to Subscribe via iTunes
Click Here to Subscribe via RSS Feed (non-iTunes feJennifered)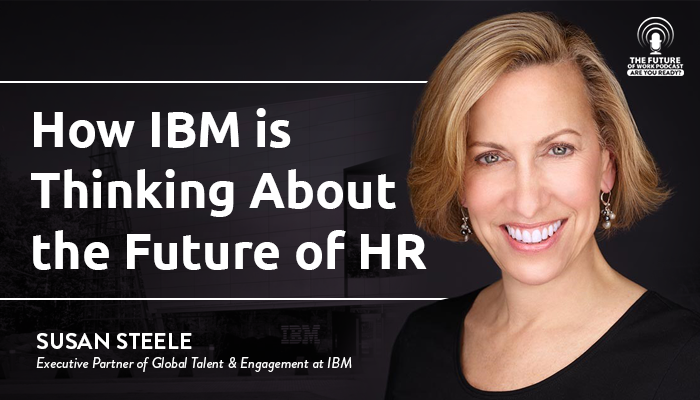 Susan Steele is the former CHRO at Millward Brown, the former CHRO at Deloitte Consulting and currently she is an Executive Partner of Global Talent & Engagement at IBM. Steele has had repeated success at building and turning around the HR function, driving new sources of revenue, enhancing client care and improving business results.
With IBM's more than 350,000 employees around the globe, there is a great deal of innovation in HR. For example, when a candidate is using a cognitive tool called Watson – a job finder or candidate fit tool – it can assist them in the application process. In fact, anyone can use Watson, just go to IBM.com and look for the career site. Watson is part of the career page.
Most recruiters are working on filling 10 -15 roles at any one time. Using Watson to prioritize the candidates is very useful. Recruiters also use Watson to use to see which candidates will be successful. Even with all the Watson technology, it is still only making recommendations to humans. It isn't handing over all the decisions on a cognitive tool, people can overrule or go beyond it. "The tool makes recommendations rather than taking over the recruiting function."
Once people are employed by IBM, internal mobility is encouraged. They use a tool called Blue Matching. It is a cognitive tool to assist locating different roles that might be a good fit for current employees. It is great for lateral or other internal moves and might include positions they haven't thought of. It is widely used. However, this isn't a matter of just getting technology and plugging it in. It also needs the support and culture of leaders that believe that internal mobility as a positive, rather than the employee leaving the organization.
A current focus at IBM is learning agility. Every organization is challenged to develop new skills quickly, be able to pivot and address new opportunities and market disruption. So, taking Watson and transforming the learning opportunity has been very beneficial. Imagine using your phone to get personalized learning opportunities. Like podcast? It would know that and recommend some of those. Prefer books? Again, it would use those in 'bit size' pieces. If someone had 5 minutes to listen to the learning as they are waiting in airport, etc. then serving it up in a using a very user friendly format improves access to the learning. "IBM learning is through the roof". Everyone is expected to have 40 hours per year and many are going beyond that because it is so engaging. "Learning is being turned on its head because of cognitive technology."
One of the current challenges at IBM is finding the right talent with the right skills. To help solve this, they are taking a broader perspective. Their CEO is talking about a 'new collar job' – don't need a college degree. This describes about 10 – 15 % of their employees in the US that they have recruited in the last few years. They have technical skills, coding, etc., but they not roles that require a full breadth of a college degree.
What you will learn in this episode:
• How Block chain and HR work together
• How the 'internet of things' will be applied to learning
• How the future of HR differs from HR of the past
• How Watson is used in IBM's hiring and training
• Insight into IBM's current workplace flexibility
• What IBM is doing to develop new skills quickly within their organization
Links from the episode:
• LinkedIn
• Twitter @TalentTalking
Comments