Robert Glazer is the bestselling author of Elevate: Push Beyond Your Limits and Unlock Success in Yourself and Others. He is also the CEO of Acceleration Partners, a 13-year-old company that manages affiliate and partner marketing programs for a lot of well-known brands such as Adidas, LinkedIn, Target, Instacart, and Hotwire.
Robert has around 260,000 LinkedIn newsletter subscribers, he has a 100% approval rating as a CEO on Glassdoor, he is ranked #2 on Glassdoor's list of Top CEO of Small & Medium Companies in the US, his company has a 4.9 out of 5-star rating as a place to work, and 99% of employees would recommend the company to a friend. He frequently contributes to Forbes, Inc. Magazine, Entrepreneur Magazine, and Thrive Global and he is the host of the popular Elevate Podcast.
The team of 170 people at Acceleration Partners is 100% remote, and they have been since day one. So Robert knows the ins and outs of successfully leading a team that he doesn't see in person every day. This is something that a lot of CEOs are having to learn on the fly now, as a large portion of organizations are moving to virtual during the pandemic.
How to create culture for a remote workforce
Robert shares that the key to having a successful remote team is by starting with the core values of the organization. Once you know your core values you can intentionally attract and hire the right people. Contrary to what happens in most organizations, Robert and his team understand that not every person will feel like the company is right for them.
A lot of organizations try to be the best place to work for everyone. But just as not everyone will like the same food, or the same music–not everyone is going to be a good fit for your company, and that is okay. As organizations we need to learn to embrace that fact. We need to be open and honest with potential hires about what it is really like to work inside the organization. It is not effective to sugar coat what their experience might be.
Robert says staying consistent in your core values is very important for building that culture. Inside of Acceleration Partners they reward and punish based on the company values, which are Own It, Embrace Relationships, and Excel & Improve. Those are the values that they consistently talk about and support. There is no question about what the company stands for and what they look for in their employees.
For people who feel that it is a good fit, the company has a lot of tools and resources that they utilize to help everyone feel connected. Employees use Slack to communicate, they have frequent video calls, they have regional in person meetups, and they have a company wide in person AP Summit at the end of each year.
But ultimately it is the people who create the culture. So having those core values set up from the beginning and using those for attracting and hiring is critical.
Four ways to elevate yourself
In his book, Robert lays out four elements that go into bettering yourself. They are:
Spiritual– this is not religious, it is about knowing who you are and what you stand for. What do you want the most and what are the standards you live by each day. You need to know where you are going.
Intellectual— This is how you get to where you are going. You need to have long term and short term goals. You have to establish routines and healthy habits.
Physical–If you don't take care of yourself physically you will be too tired and unfocused to get things done. Eat healthy, exercise, take care of your body.
Emotional— This is how you react to challenging situations and it affects the quality of your relationships
140 of the world's top CEOs identified a specific set of 9 skills & mindsets that are crucial for leaders to master. Learn what they are and hear directly from these leaders by downloading the PDF below.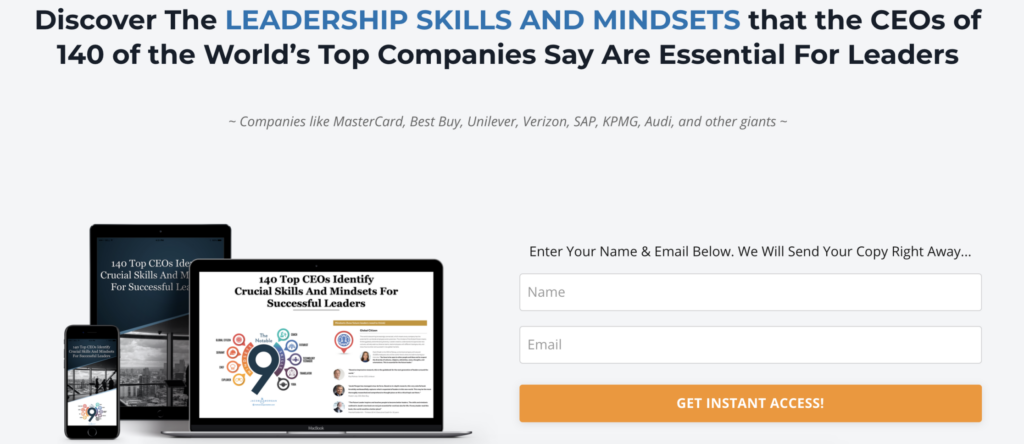 ________________________________________________________________________________________
If you enjoyed the article and want more content like this here's what you can do:
Subscribe to The Future of Work Podcast where I interview business leaders around the world each week.
Grab a copy of The Future Leader which has been endorsed by the CEOs of MasterCard, Best Buy, Oracle, Audi, Unilever, Domino's Pizza, Ritz Carlton, Kaiser, and Marshall Goldsmith. It explores the most essential skills and mindsets for future leaders.
If you are or want to be an entrepreneur then my wife and I just launched a brand new podcast on how to Be Your Own Boss, called the BYOB Podcast where we share what we did and how we did. You can subscribe to that here.
Comments