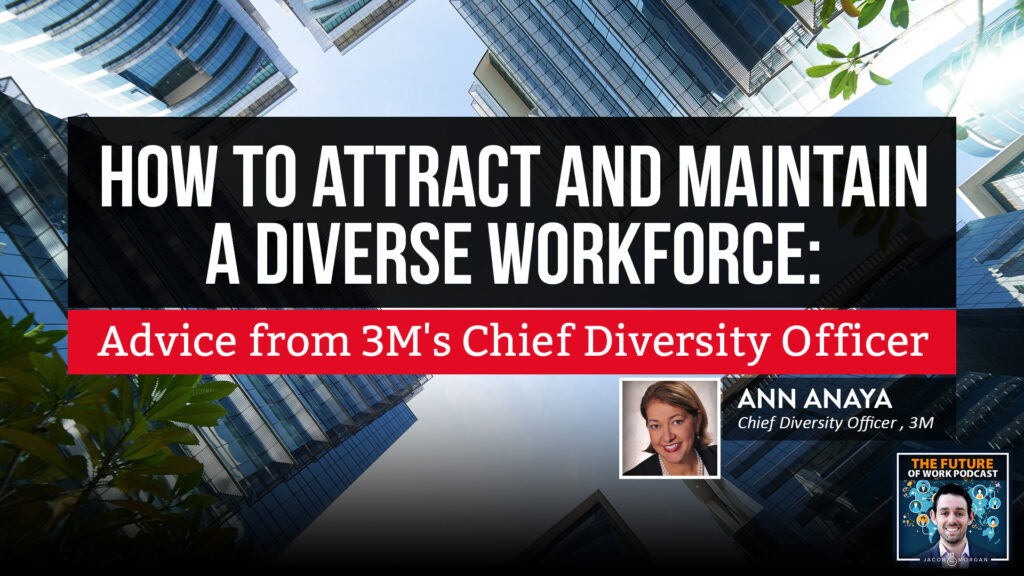 This week I am joined by Ann Anaya, the Chief Diversity Officer at 3M, a global company with 93,000 employees in 70 countries around the world. They use science and innovation to create and supply products for the fields of industry, worker safety, health care, and consumer goods. One of their most well-known products would be the Post-it Note.
In our conversation today you will hear Ann's advice for people looking to make a career shift and why it is more important to focus on your skills rather than your past job titles. You will also hear how the Post-it was created, what people outside of HR need to know about diversity and inclusion, and what programs 3M has going on to emphasize and focus on diversity inside the organization.
Create Amazing Employee Experiences In Your Organization
Get started on our FREE training series!
Get Started →
Ann Anaya is the Chief Diversity Officer at 3M, a global company that creates and supplies products like the Post-it note. They have 93,000 employees in 70 countries around the world. Ann has been with 3M for six years. She actually began her career as a lawyer, first for the state court in Minnesota and then for the US Attorney's Office focusing on major white-collar and complex crime. Six years ago she was looking for a change in her career path and she applied into legal affairs for 3M. After working in legal affairs for four years she was asked to consider the newly opened position of Chief Diversity Officer.
Ann gave advice to others who are looking to change careers, she said there are three pieces in figuring out the best industry and role.
What is your passion?
What are you good at?
Figure out where your skills and passions make a difference and then take action
She says, "we all know that we're really good at some … a handful of particular skills and one of the things that I am fortunate to have as a skillset that I do well at is the ability to influence change and doing that through advocacy. Yes, those are skills for a trial lawyer or a litigator but those are skills that we use in so many other ways. Number one is passion. Number two, what skills do we really have that we're really good at? Then, finally, I would say, where can we take our experiences and apply them in a way that there is a need to make change?"
Ann also had a mentor, who played a huge role in helping her figure out where her skills fit best. She believes everyone should have people in their lives who push them, challenge them, and stretch them in order to be better. As she puts it, "We all need champions. We can't do it alone" no matter if you are a leader or an entry-level employee.
3M has been focused on intentionally embedding diversity and inclusion into their brand, their mission, and their goals. They are going through a "new culture refresh" and it will be a part of all 3M does. And they are finding that having a diverse and inclusive organization not only impacts the employees, it also impacts the customers.
"Diversity is all about demographics and inclusion is about our environment or the atmosphere we create in our workplace. There is no one without the other. You can't have an inclusive workforce if there isn't diversity within the workforce and you can't be inclusive without the diversity of ideas, perspectives, and backgrounds. You won't benefit from diversity, inclusion unless you have both."
What You Will Learn In This Episode:
Why we should focus on skills rather than job titles
Advice for people who would like to explore a new career path
Why people outside of HR need to know about diversity and inclusion
What is diversity and inclusion and why is it important
Programs 3M has in place to embrace and promote diversity and inclusion
Comments