Each week I'm going to provide a round up of what I consider to be important and interesting articles on the future of work (not authored by me). These will include a variety of sources and topics ranging from workplace practices to robots and automation to leadership and everything in between. There's a lot of information out there so I'm hoping that these weekly round ups will help make life a bit easier for you by giving you just the good stuff. Let's get into it!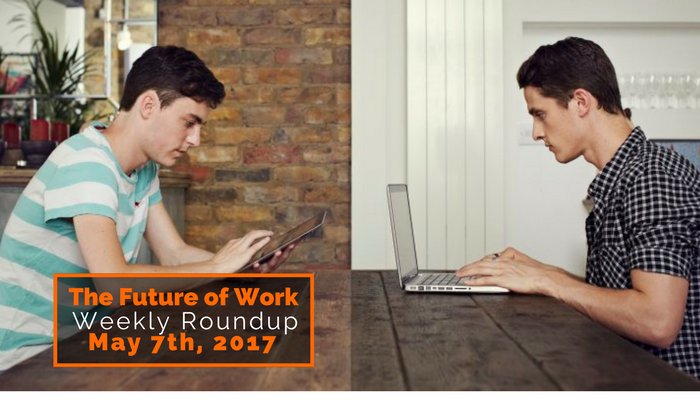 13 Jobs that Robots, AI, and Automation Won't Steal (Immediately)
Recently published was a list of 13 fields of study and innovation that may still be around in the near future, even with the increase of robots and automation.
A few of the fields included were Artificial intelligence, Drones, Genomics, Blockchain and 3D Printing.
According to the article, these job areas should be relatively safe from complete automation for the next decade or so.

How to Make an Awesome Remote Team
Working remotely requires strong communication, established goals and clear expectations. For remote teams to be effective they need to have the best collaboration tools available.
Video conferencing, though sometimes awkward at first, can help teams get to know each other and develop team spirit. Remember to celebrate milestones such as birthdays and anniversaries.
Allowing a flex work schedule where remote workers decide when they work is beneficial. This allows employees to meet the demands of customers but not give up all work/life balance.
Finally, regular check-ins with managers is critical to successful remote working relationships. A manager needs to understand the day-to-day activities and focus on goals for short and long term periods.

7 Things Great Bosses Tell Their Employees Every Single Day
Seven things that the best bosses say to their employees to get them motivated:
1. "I trust you." This tells your employees that you believe in them and therefore, gives them confidence.
2. "I am proud of you." This is as powerful as letting them know you trust them…or perhaps even more so.
3. "Thank you." Showing gratitude is a key to earning trust.
4. "I always have time for you." This makes employees feel valued and appreciated.
5. "What can I do to help?" This reminds your team that you care for them.
6. "I'm sorry." It's important to own up to mistakes.
7. "Don't worry about it." Knowing that you will take care of mistakes they make or have a situation under control is influential in shaping how your team feels about your company.
My new book, The Employee Experience Advantage (Wiley, March 2017) analyzes over 250 global organizations to understand how to create a place where people genuinely want to show up to work. Subscribe to the newsletter here.