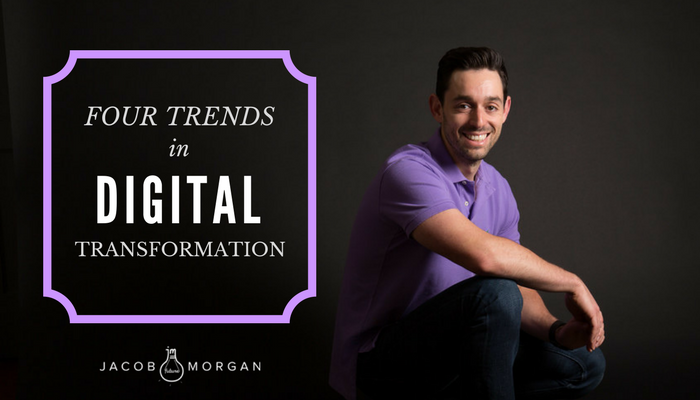 If one of the main goals of the future of work is to increase productivity and collaboration, there's a great place to start: digital transformation. Many companies are embarking on a digital transformation in an effort to connect employees and customers around the world digitally. The future of work and digital transformation are both vital to each other's success, and they can work together to help organizations prepare for a new wave in the workforce. A digital transformation can provide employees the tools they need to create the best work environment for the future.
Digital transformation builds on the current state of global connectivity and can include a wide variety of features. However, according to Adam Warby, CEO of global technology solutions firm Avanade, there are four main trends being seen in digital transformations across industries:
Borderless platforms. Digital transformation really comes down to increasing collaboration. Instead of employees only working with members of their immediate team, we can now take advantage of working and communicating with people from different teams and companies around the world. Collaboration is a top priority for many organizations, and building borderless platforms helps that happen.
Data currency. Forward-thinking companies rely on a large amount of current data to make decisions. Being better informed and having more data at your fingertips helps organizations make better and more strategic business decisions. That data largely comes from increased access to global records, but it is partnered with the challenge of sifting through the records to find the most updated and applicable data. Creating the data is easy—the real challenge comes with finding a way to make it accessible to employees and customers.
Individual centricity. Everyone today wants to have a unique experience, no matter if it is in store or online. Experience is everything and what keeps customers coming back for more. To build a truly individual experience, organizations need to be digital inside and out and integrate digital functions into all aspects of its business plan. The principle also applies to employees, who each want to have a customized work experience with the freedom and flexibility to make their job into what they want it to be.
New workplace battle for the brains. We are entering a new phase in the war for talent where the real power is in intelligence. Organizations are challenging each other to get the best thinkers, but the real challenge is in how to get employees engaged in the work that is best for them.
Adam has interviewed dozens of executives at a large variety of companies and believes digital transformation is leading to great business success. Nearly every organization has adopted some kind of digital tool, which almost always leads to business benefits. In many cases, a digital transformation can be linked directly to increases in revenue and organic company growth. However, starting a complete digital transformation can be overwhelming, especially for a company that sees lots of potential areas to improve. The correct approach for each organization depends on what they are trying to do and the scope of the change. Adam suggests looking for your company's individual focus and digitizing it. For a marketing company, that could be increasing access to data to improve campaigns, and for a retail store it could be digitizing customer interactions to improve each person's experience. Although the term digital transformation is widely used, each digital transformation actually looks very different.
The future of work is all about digital transformation, but it is also about flexibility to creating an atmosphere that allows your employees and customers to thrive. A strategic and personalized digital transformation can give your company the collaboration tools to succeed in the future of work.
My new book, The Employee Experience Advantage (Wiley, March 2017) analyzes over 250 global organizations to understand how to create a place where people genuinely want to show up to work. Subscribe to the newsletter here.
Comments