Click Here to Subscribe via iTunes
Click Here to Subscribe via RSS Feed (non-iTunes feed)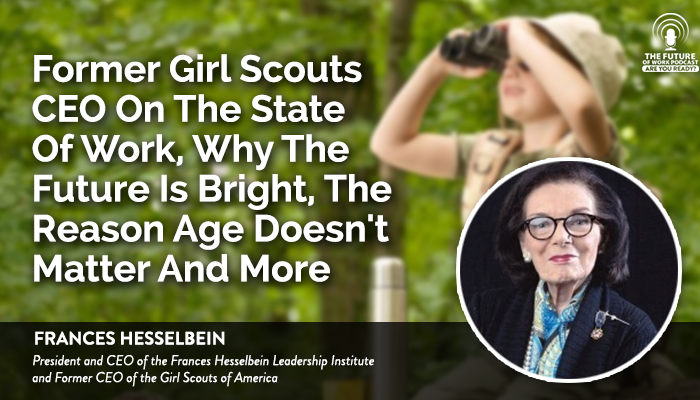 Frances Hesselbein is the President and CEO of The Frances Hesselbein Leadership Institute, founded as The Peter F. Drucker Foundation for Nonprofit Management and renamed in 2012 to honor Hesselbein's legacy and ongoing contributions. Mrs. Hesselbein was awarded the Presidential Medal of Freedom, the United States of America's highest civilian honor, by President Clinton in 1998 for her leadership as CEO of Girl Scouts of the U.S.A. from 1976–1990, as well as her service as "a pioneer for women, volunteerism, diversity and opportunity." Her contributions were also recognized by the first President Bush, who appointed her to two Presidential Commissions on National and Community Service. At 103 years young, she is one of the most highly respected experts in the field of contemporary leadership development.
From 2009–2011, Mrs. Hesselbein served as the Class of 1951 Chair for the Study of Leadership at the United States Military Academy at West Point, in the Department of Behavioral Sciences and Leadership. She is the first woman, and the first non-graduate to serve in this chair.
The Frances Hesselbein Leadership Forum at the University of Pittsburgh is a continuation of the legacy of Frances Hesselbein and reflects the vision of a university-based center for teaching, applied research, and public service where leaders and aspiring leaders from around the world can gather to advance the art and science of leadership and put these principles to practice in public service.
Mrs. Hesselbein's advice for leaders today is to totally be committed to a mission, b values based, and be demographic driven – the doors are open, we need to find ways to include all our people.
What role do leaders play to support organizations?
● At every level, the CEO will bring on a team that respects its people.
● They must create a mission that is short, powerful and compelling. One that "Can fit on a T-shirt"
● The leaders must live the values
Some of the greatest changes that have occured over the course of Mrs. Hesselbein's career are that there are doors opened that were never opened before, we are including women in every level, there is a respect for all people and that has become a battle cry for her organization.
In many of Mrs. Hesselbein's speeches she talks about 2 institutions that have sustained democracy. These are the 2 powerful forces that help us sustain our democracy and we don't let anyone put them down. They are:
– The educational system – public education.
– The US military.
Mrs. Hesselbein says, "Work is love made visible. There is something about working with people, for people, working to sustain something, to open doors. To work is to live. We find what we love to do and pour everything we have into it. And work is love made visible". And she truly lives this statement out. She has given her all to serve her community, her organization, and the world. She is an advocate for women and minorities and she is passionate about everything that she does.
What You Will Learn In This Episode:
● How to create meaningful work
● The current state of work
● Why the future of work is so 'bright'
● Trends in leadership
● Where Frances grew up and how she got her start
● Changes Frances has seen over the course of her career
● Frances' advice to leaders inside of organizations
Links from the episode:
Want To Learn More About Leadership?
The CHRO Of 24 Hour Fitness On Relationship Based Leadership

Kellogg School Of Management Professor On How To Deliver Leadership Based On Values
https://thefutureorganization.com/wp-admin/post.php?post=11902&action=edit
Comments