Just a few years ago, no one could have predicted the dramatic shifts we've seen in the world of work–incredible growth of technology, AI, ChatGPT, the Great Resignation, Quiet Quitting, entire companies and industries working remotely–the list goes on and on.
You're probably a current or aspiring leader trying to figure out what all of the change means for you and you're asking yourself questions like:
How do you I unlock the potential of my people?
What does all of this change mean for how I lead?
How do I influence my team (not command them?)
How do I create more trust?
How do I do more with less?
How do I keep up with everything?
What do I need to do to make sure I can grow as a leader?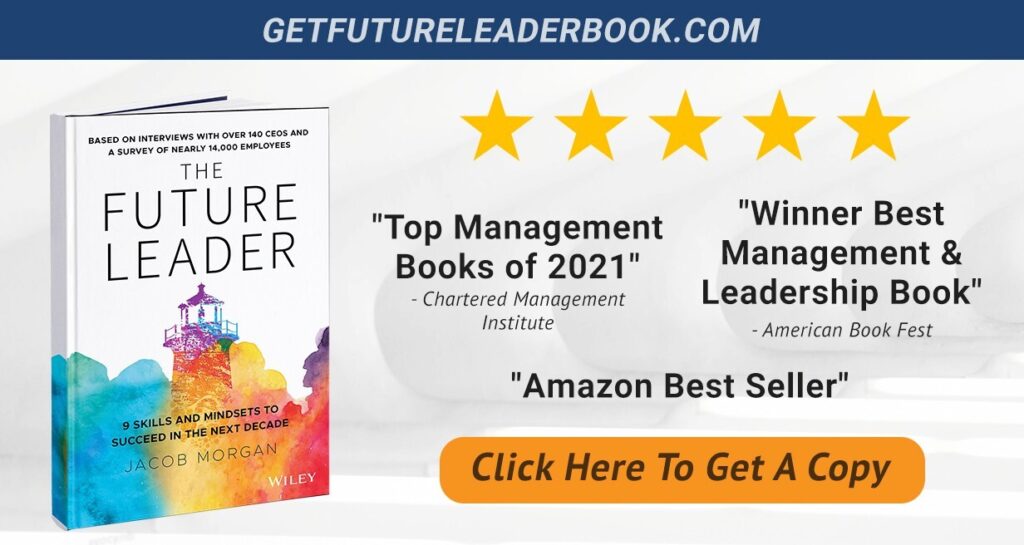 And as hard as it may be to realize, this is the slowest that things will ever change. The rate of change will only increase in the coming years.
What does it take to lead in a fast-paced future—especially one that we may not even be able to predict?
It requires an entirely new set of skills and mindsets. Leaders can't rely on what's worked in the past to help them lead and thrive in the future of work. What are these skills and mindsets and how do you practice them?
To answer this I wrote, The Future Leader: 9 Skills and Mindsets to Succeed in the Next Decade which recently won the management book of the year award by the Chartered Management Institute. It's actually now on sale at Amazon for a huge discount!
The shelves are full of leadership books. But they all tell you how to be a leader in a world that's already gone. Only my book focuses on the future of leadership and combines robust research with best practices to provide real, actionable tips.
I interviewed 140 of the world's top CEOs from companies like Best Buy, Oracle, Unilever, Mastercard, Best Buy, KPMG, Audi, and over 120 others. I then combined these insights and stories with actual data from a survey of 14,000 employees.
I distilled the CEO insights into the Notable Nine. The skills of the futurist, Yoda, the translator, the coach, and the technology teen, and the mindsets of the explorer, the chef, the servant, and the global citizen. These practical tips and takeaways guide you to becoming a future-ready leader.
You may not be able to sit down with these great leaders, but by following their advice and adopting the skills and mindsets of future leaders, you could join their ranks soon.
The world is changing quickly. You can't afford not to evolve and adapt as a leader.
Become a future-ready leader. The Future Leader is the best resource to make that happen and you know that what you read is backed by both CEO insights and hard data.
If you need more convincing here is what some CEOs said about the book:
"You want to be a future ready leader? You need this book!"Horst Schulze, Founder and CEO, The Ritz-Carlton Hotel Company
"The practice of management quit working 30 years ago. This book makes a rare, badly needed, grand contribution to leadership, teams and human development." Jim Clifton Chairman and CEO Gallup
"Jacob's book answers the most pressing questions on the future of leadership. Based on impressive research, this is the guidebook for the next generation of leaders around the world." Paul Polman, Co-founder and Chair, IMAGINE and former CEO, Unilever
"I applaud Jacob in assembling such a powerful and inclusive collection of voices for leaders around the world to learn from. Whether you're a current or future leader, this book is one that you should read and keep near you."Ajay Banga, CEO, Mastercard 
"Being a leader is a tremendous honor and responsibility, you owe it yourself and to your people to become the best possible leader you can be. You can start by reading this book and putting into practice the ideas that are explored in it. A valuable read! David Novak, former CEO, Yum! Brands"
"If every leader read this book, the world would be a better place!"Marshall Goldsmith – Thinkers 50 #1 Executive Coach for 10 years
"Jacob Morgan has managed a tour de force. Based on in-depth research, this very colorful book forcefully and beautifully captures what is expected of leaders in this new world. This may be the most thoroughly researched and comprehensive thought piece on this critical topic out there." Hubert Joly, CEO, Best Buy
Get your copy here before the price goes back up!
Comments