Click Here to Subscribe via iTunes
Click Here to Subscribe via RSS Feed (non-iTunes feed)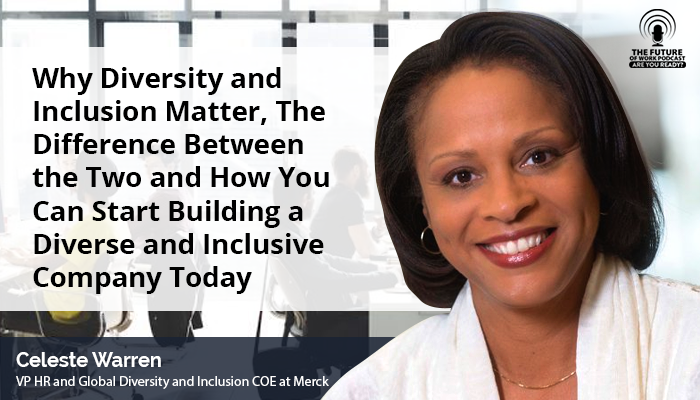 Celeste Warren is the Vice President of Human Resources and Global Diversity and Inclusion, Center of Excellence at Merck. In this dual role, she has responsibility for the strategic and operational Human Resources support of Merck's Global Legal, Compliance, Communications, Population Health, Patient Health and Global Public Policy Organizations.
She is also responsible for working with Merck's global leaders to advance and embed diversity and inclusion as a strategic approach to maximize business performance and create a competitive advantage. Warren is extremely passionate about D&I and she has received numerous awards for her work including Diversity Global's 2017 Influential Women in Diversity award and most recently she was named one of the 21 Leaders for the 21st Century.
Merck is a pharmaceutical organization that makes drugs, operating in about 140 countries with about 60,000 employees.
What is the difference between diversity and inclusion? Warren explains that diversity is simply our 'differences'. For example: men/women, Black, White, Latino or a disability that is not visible, whether someone is married or single, genetic differences, and in general, what difference someone identifies with.
Inclusion, on the other hand, is creating a culture that allows all people to 'bring themselves into work'.
When you have employees with differences within the organization, how do you create a culture of inclusion that allows them to be able to bring themselves into work? We have to find out whatever people identify with – so they can be productive. We also have to ensure that people aren't marginalized and that their ideas are received and considered, to contribute to the success of the organization.
There are four diversity ambassador teams at Merck that look at D/I.
The first is employee business or affinity groups. There are 10 groups in Merck that come together once a month to talk about issues within organization to be the voice of organization.
The second is their global diversity and inclusion business consortium. This group focuses on how business leaders need to do their job through the lens of D/I and so they learn from each other.
The third is the global diversity and inclusion extended HR leadership team who ensure that work is done with the lens of D/I.
And the fourth group's focus is on creating a culture for employees with disabilities.
Advice for managers to be more aware of Diversity & Inclusiveness
1. Look inside themselves, what are the capabilities, how knowledgeable am I? Read articles, around D/I and see what is happening around the world.
2. Build your own capabilities – take a few online courses to look at unconscious bias and how it impacts your leadership
3. In staff meeting, bring in an article around diversity and start a dialog, create a safe, brave space to talk about these things. What can I be doing better? What can I do to better create a culture?
4. Take that information and go to your peers/ your manager. Have that discussion with your manager to figure out how your organization can create a more diverse and inclusive environment.
Warren's advice for individual employees is to understand your own biases, come into the workplace and talk with your peers about it – bring in an article, get together with others and talk about things happening, have a conversation with your manager and join an employee affinity group. Get involved and be a leader.
What you will learn in this episode:
• What role diversion and inclusion plays in organizations
• Why should organizations think about diversity?
• How is diversity and inclusion tied to business goals?
• What data should organizations look at in terms of D/I?
• What roles individual employees, managers and leaders play in creating a more diverse and inclusive organization
Links from the episode:
Celeste Warren On LinkedIn
Twitter: @crwdiversity
Want To Hear More On Diversity And Inclusion?
Why Diversity and Inclusiveness is Important Today and Tomorrow With Karyn Twaronite

Why Diversity And Inclusion Are Crucial for The Success of Organizations Today With Anka Wittenberg

Comments