Click Here to Subscribe via iTunes
Click Here to Subscribe via RSS Feed (non-iTunes feed)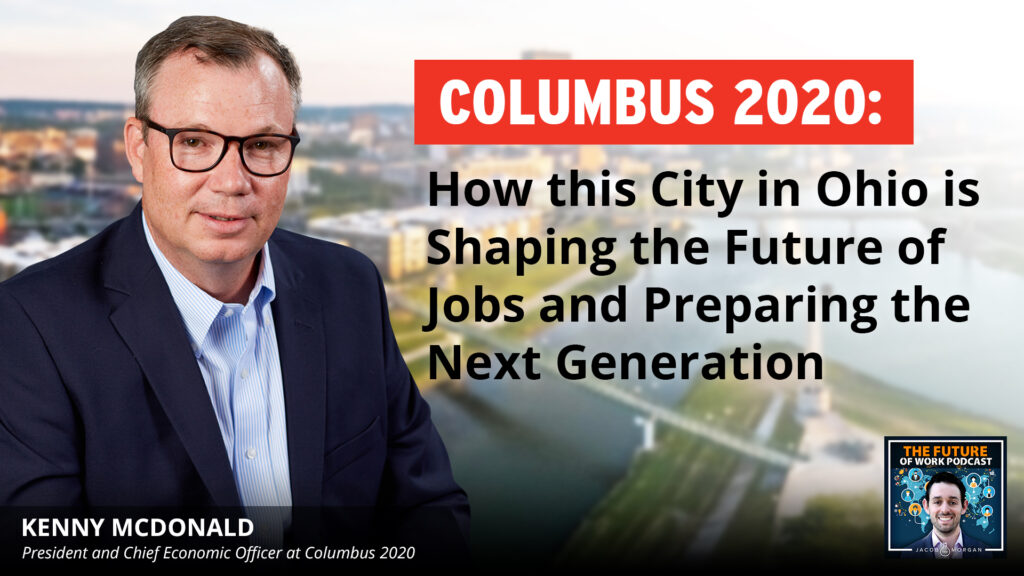 Kenny McDonald is the President and Chief Economic Officer of Columbus 2020, an economic development organization for the 11-county Columbus, Ohio region. This initiative was started back in 2010 by a team of more than 20 economic development experts who wanted to actively do something to improve their area after the '07-'08 recession.
At the beginning, in 2010, the team behind Columbus 2020 came up with four main long-term goals that they would focus on over the next 10 years. The goals were:
1. Add 150,000 net new jobs
2. Generate $8 billion of capital investment
3. Raise personal per capita income by 30 percent
4. Earn recognition as a leader in economic development
They didn't want to just recover from the recession, they wanted the city of Columbus to do better than it ever had before. And this strategy paid off, in 2018, just 8 years into their 10-year plan, they had already met three out of the four goals.
Now a big focus for Columbus is preparing the workforce of the future. One of the major trends around the future of work Kenny is paying attention to is the mass automation happening in a lot of industries including finance, insurance, and retail.
Kenny says, "We're asking ourselves what will be automated, what jobs exist now and have existed for decades that maybe in the next 5 or 10 years are no longer going to be a way for people to earn income, how are they going to do that? How are we going to create that tax base out of that in the future? So we consider ourselves a laboratory and are leaning into all of those changes."
After studying automation, Kenny and the team of economic development experts he works with believe that around 200,000 jobs in their region are under serious risk of going away due to automation. But they don't see that as a threat, they see it as an opportunity. An opportunity to create better jobs for humans while leaving the unskilled, labor intensive jobs to technology.
Create Amazing Employee Experiences In Your Organization
Get started on our FREE training series!
Get Started →
When asked who is responsible for retraining and upskilling the workers who are displaced to to job automation, Kenny said it should be a combined effort between the community, the major employers, and educational institutions. These major players need to have open and honest discussions to figure out how jobs are changing and what needs to be done to better equip people for the future of work.
Even though there is a large responsibility on the community, employers, and schools, that does not leave the individual employee off the hook. "The need, the velocity of which continued education is going to be required for you to be a competitive employee in the future is going to require a lot of responsibility. So you're going to be responsible for raising your hand and saying, "I want that training. I'm willing to make a little bit of a time sacrifice to learn that skill to evolve as technologies evolve and continue my career.People that are willing to do that are going to have tremendous opportunity, maybe even greater opportunity than we've ever seen before. But those that are unwilling to do that or perhaps don't have the insight and aren't given the roadmap around that are going to have a difficult time."
When it comes to advice for listeners, Kenny says it is important to get involved in your community, especially if you work for one of the major employers in your area or if you are an academic leader. Find ways to partner with your city, get involved, and start conversations. Figure out where your city needs to be in 5-10 years and start building it now.
What You Will Learn In This Episode:
●How Columbus is preparing the next generation for the future of jobs
●How Columbus 2020 got started and what success they have seen so far
●What trends Kenny is paying attention to
●What jobs will most likely disappear in the near future
●Who is responsible for retraining and upskilling displaced workers
●Whether or not a college degree still has value
Links From The Episode:
Columbus 2020
Kenny McDonald on LinkedIn
Comments